Four Thanksgiving Stocks Worth a Second Look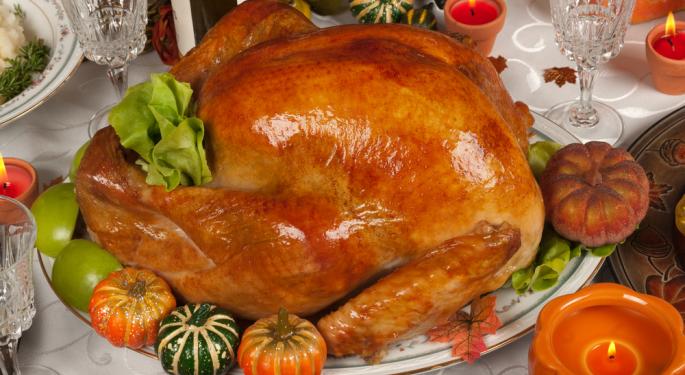 If you're a fan of turkey, stuffing and spending at least one day with that awkward cousin, then you're pumped about this week. It's Thanksgiving!
Despite a storm that threatens to put a damper on holiday travel, if you're traveling to so-and-so's house, you might want something to read during those rare times when you're not making small talk with your armchair-politician-ranting brother-in-law. Here's a short list of Thanksgiving stocks worth some research.
Wal-Mart (NYSE: WMT)
There's no middle ground with Walmart. Either you think the company is wiping out small businesses around the world or you welcome the low prices but there's no doubt that the company is polarizing. The chart, however, looks good. Walmart is up more than 15 percent this year and is barely 20 cents away from its 52-week high.
Macy's (NYSE: M)
The marketing genius of Macy's goes on display this week when everybody tunes in to the Macy's Thanksgiving Day parade. Then, stores open for Black Friday (on Thursday) where shoppers flock to the store for the bargains.
Speaking of bargains, Macy's isn't one but that doesn't mean that you should necessarily stay away. The stock is up 31 percent this year and sitting at its 52-week high. It's not a value play but the chart still shows some momentum to the upside.
Related: Winter Storm Could Cripple Holiday Travel
Tyson Foods (NYSE: TSN)
Thanksgiving is about the meat and who knows it better than Tyson Foods? Investors have gobbled up the stock this year sending it nearly 60 percent higher year to date. After a two-month sell off in September and October, the stock is challenging its 52-week high from August. Tyson sits well above all key technical levels and looks like it wants to move higher.
Southwest Airlines (NYSE: LUV)
You have to LUV this airline stock (pun intended). For years, the airlines were a great place to lose investment dollars but that has largely changed. Southwest is up 78 percent this year and has printed an impressive upward trend line since early September. It's sitting one cent away from its 52-week intraday high and if you're a "don't fight the trend" investor, this stock looks great on paper.
Now, find a quiet corner of your in-laws house and do the fundamental research to see if these names deserve your money.
Disclosure: At the time of this writing, Tim Parker had no position in the stocks mentioned.
View Comments and Join the Discussion!
Posted-In: macy's Southwest Airlines Thanksgiving Tyson FoodsNews Technicals Retail Sales Trading Ideas Best of Benzinga