Boeing's Wrong Airport Landing Could Have Been Worse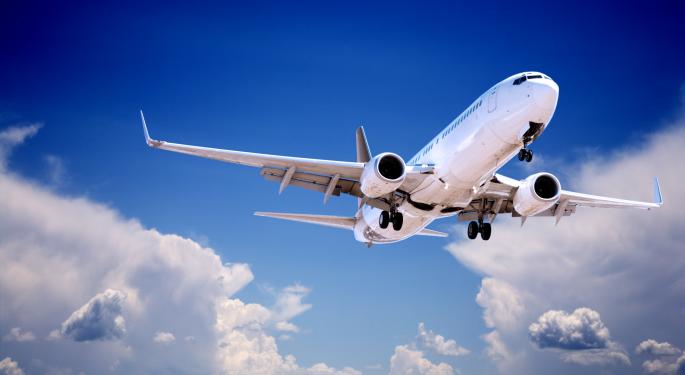 Boeing (NYSE: BA) has made the news a lot this year, but this time the company made headlines for somewhat of an embarrassing reason.
Preliminary reports emerged Wednesday night that a large aircraft had made an emergency landing at a small airport in the Midwest. Once all the facts were collected, that "large aircraft" belonged to Boeing and it hadn't made an emergency landing at all. It had, in fact, landed at the wrong airport.
Here's the whole story.
A heavily modified Boeing 747 the company uses to shuttle parts for the 787 Dreamliner was en route to Kansas from Grottaglie, Italy, where Boeing manufactures fuselage parts for the Dreamliner. It had received final landing clearance from McConnell Air Force Base but instead, landed at Colonel James Jabara Airport, complete with a runway only 6,100 feet long.
That's a runway of respectable length, but not for a 747.
Related: Boeing's New Airliner Tops Big Year for the Stock
According to Bloomberg, there are three airports in the Wichita area so maybe its not as bad as it sounds, but there was a bigger issue.
Just because the aircraft could land didn't mean it could take off. Immediately, Boeing engineers started crunching numbers to see if the runway was long enough for the plane to get off the ground.
Boeing believed the aircraft could take off, but Wichita officials advised motorists to avoid the area primarily due to the wind created by its enormous jet engines, according to USA Today.
The 747 took off and made the nine-minute journey to McConnell Air Force Base without incident.
Although a Boeing aircraft, the plane was operated by Atlas Air at the time of the incident, but all reports point to Boeing as the culprit. In a year full of much negative attention, this is something for late-night talk shows instead of a symptom of a company problem.
Despite the flurry of technical issues surrounding its 747 Dreamliner this year, the stock has had a year that investors love. Year to date, Boeing is up around 77 percent and recently, the company announced that its new $350 million 777X attracted more than $100 billion in orders.
Numbers like that allow investors to forget about the Dreamliner woes and planes with a giant Boeing logo landing at airports made for planes a fraction of its size.
Disclosure: At the time of this writing, Tim Parker had no position in the company mentioned.
Posted-In: 777X 787 Dreamliner atlas air Bloomberg Boeing usa todayNews Events Best of Benzinga
View Comments and Join the Discussion!