FCC Proposes Lifting Ban on In-Flight Cell Phone Use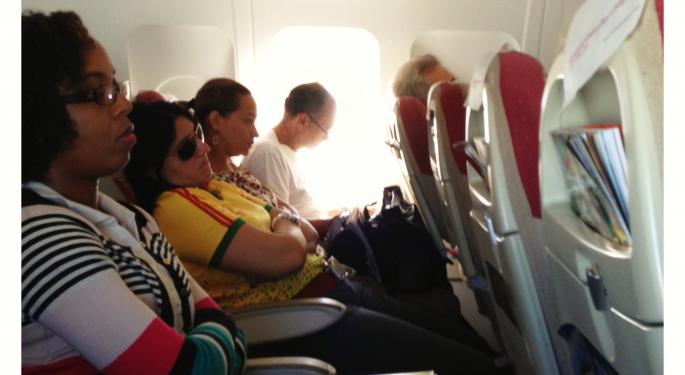 A Federal Communications Commission (FCC) proposal, to lift the ban on airline passengers using their cell phones during flights, is drawing a wide range of reactions.
"Modern technologies can deliver mobile services in the air safely and reliably, and the time is right to review our outdated and restrictive rules," FCC Chairman Tom Wheeler said in a statement issued on Thursday.
Related: Record Aircraft Purchases Put Boeing on Top of Growing Middle Eastern Airline Market 
But the proposal, which will reportedly be voted on during an FCC meeting next month, came under criticism from some airlines.
According to Reuters, Delta (NYSE: DAL) says it will not allow cellphone use on its flights, even if approved by the FCC – due to "overwhemling sentiment" by its customers against in-flight calls. United Continental (NYSE: UAL) and Southwest (NYSE: LUV), meanwhile, say they will study any changes in the cell phone policies.
But the Association of Flight Attendants came down hard against the FCC proposal – saying passengers overwhelmingly reject cell phone use in aircraft cabins.
"Flight Attendants, as first responders and the last line of defense in our nation's aviation system, understand the importance of maintaining a calm cabin environment," the Association said in a press statement. "Any situation that is loud, divisive, and possibly disruptive is not only unwelcome but also unsafe."
The Associated Press notes some airlines in Europe, the Middle East and Asia already let passengers make in-flight calls on their cell phones – using either satellite relay systems or a special "picocell" on the ground.
Related: Dubai Air Show Roundup: Boeing Emerges A Winner
It also points to the success some commuter railway services, including Amtrak, have had with the establishment of "quiet cars" for passengers who don't want to be trapped to a person having a loud phone conversation – and envisions airlines offering similar "quiet row" sections.
But many airline passengers seem to dread the idea of being trapped next to someone endlessly chatting on their cellphone.
"The only way I'd be in favor of this is if the FCC mandated that all those who want to use their cellphones must sit next to families with screaming children," frequent flier Joe Winogradoff told AP.
Posted-In: Airline Industry airline passengersNews Travel Tech Media Press Releases General Best of Benzinga
View Comments and Join the Discussion!