Twitter Launches TV Conversation Targeting to Snatch Up Even More Advertising Dollars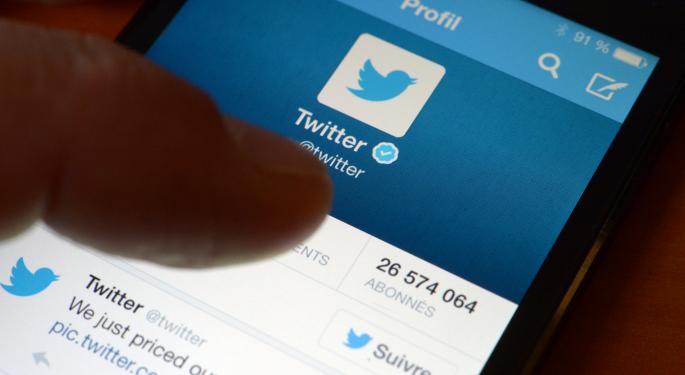 It's called TV Conversation Targeting and it's Twitter's (NYSE: TWTR) latest and greatest new way to let advertisers target people who have tweeted about a certain show according to a company blog post Thursday.
Only in this case, the targeting can occur even if the advertiser in question hasn't bought ad time on that show.
Because of this, advertisers may be inclined to spend ad dollars on Twitter where they could take advantage of Nielsen demographic information without having to make a television ad buy.
Business Insider pointed out that social media platforms like Twitter have had so much growth they need to find ways to attract advertising dollars that previously have been going to television in order to continue to expand.
TV Conversations Targeting expands Twitter's television advertising reach and potentially saves advertisers at the same time. Earlier versions of Twitter's TV ad targeting multiplied the reach of television advertisers but relied on the fact that those advertisers already had bought ads on mentioned shows.
So far, according to Twitter, Betfair, Domino's (NYSE: DPZ), and British Sky Broadcasting have already been using TV Conversations Targeting to reach "millions of Twitter users." The company said it planned, over the next few weeks, to expand the service internationally.
In Thursday's blog post Twitter said it had conducted research showing that the combination of TV commercials and Promoted Tweets resulted in a 95 percent stronger message association and up to 16 percent more sales.
Related: Why Twitter Is The New Ticker Tape
In addition, acquisition costs for companies were 36 percent lower than with TV advertising alone.
Those signing up also include television networks like CBS (NYSE: CBS). According to CNET, a recent deal between Twitter and the network would allow CBS to embed video clips from its shows in tweets.
The CBS deal is all part of Twitter's Amplify program, which pairs short clips with ads. Original Amplify partners were Disney (NYSE: DIS) owned ESPN and Ford (NYSE: F) Fusion.
One other important data component to Twitter's efforts to target television advertisers was an agreement with Nielson Holdings (NYSE: NLSN) to create Nielsen Twitter TV Ratings. Launched in October, Nielsen Twitter TV Ratings measures how many people view TV-related tweets about specific television programs.
Initially Nielsen reported that its ratings suggested the viewing audience for TV-related tweets was, on average, 50 times more than the number of people tweeting. In other words, if 10,000 people tweeted about an episode of Modern Family, as many as 500,000 people might be viewing those tweets – and associated ads.
At the time of this writing, Jim Probasco had no position in any mentioned securities.
View Comments and Join the Discussion!
Posted-In: Amplify Betfair British Sky Broadcasting CBSNews Events Tech Media Best of Benzinga