Market Wrap For November 21: Dow Re-Claims 16,000 level On Positive Job Data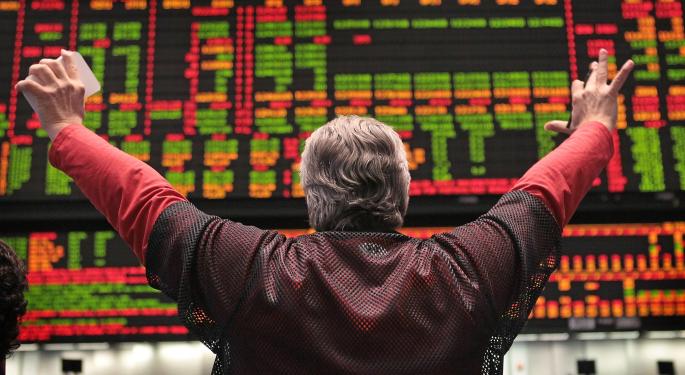 Encouraging news coming from the job market was enough to send the major markets higher. Initial Jobless Claims declined 21,000 to 323,000 versus an estimated 335,000.
As to be expected, the Senate Banking Panel Voted in favor to approve Janet Yellen as the next Fed Chair.
The Dow gained 0.69 percent, closing at 16,009.60.
The S&P 500 gained 0.81 percent, closing at 1,795.85.
The Nasdaq gained 1.22 percent, closing at 3,969.15.
Gold lost 1.28 percent, trading at $1,241.90 an ounce.
Oil gained 1.37 percent, trading at $95.14 a barrel.
Silver lost 0.64 percent, trading at $19.93 an ounce.
News of Note
The HSBC Chinese Flash PMI declined to 50.4 in November, versus expectations of 50.9, and a prior reading of 50.9.
The Bank of Japan left its key interest rate unchanged at 0.1 percent, and maintained its program of expanding the monetary base between 60 to 70 trillion yen ($611-713 billion) a year.
The Eurozone Flash Manufacturing PMI reached a multi year high of 51.5 in November, up from 51.3 in October. All was not well in the Eurozone with growth outside of the "big two" consisting of Germany and France slowed to near stagnation.
The U.S. Labor Department reported that the Producers Price Index (PPI) contracted 0.2 percent during October, in line with expectations and down from September's negative 0.1 percent reading.
The US Markit PMI Preliminary November reading came in at 54.3, versus expectations of 52.3, and a previous reading of 51.8. Readings above 50 indicate expansion and faster growth in the economy.
The U.S. Philadelphia Fed Business Outlook for November came in at 6.5, versus expectations of 15.0 and the previous reading of 19.8. Despite the large plunge, the index remains above zero for the sixth consecutive month.
Pacific Investment Management Co (aka 'PIMCO') predicted this morning that Treasury 10-year yields will be capped near 3 percent into 2015 even with the Fed beginning to taper early next year. Tony Crezcenzi is predicting the fed will begin tapering in January, or March.
Equities-Specific News of Note
The U.S. Treasury announced its intention to completely liquidate its stake in General Motors (NYSE: GM). Shares of the Detroit automaker gained 1.17 percent, closing at $38.13.
Related: U.S. Plans to Sell Remaining 31.1 Million Shares of General Motors
Tesla Motors (NASDAQ: TSLA) is hiring? According to his LinkedIn profile, George Blankenship, head of sales is now employed as "Director of Smiles for the Blankenship Family." Tesla Motors now appears in the "previous" category of the profile.
Seperately, some good news for Tesla (NASDAQ: TSLA) as the company achieved a 99 out of 100 score from Consumer Reports. Shares gained 0.39 percent for the day, closing at $121.58.
Carl Icahn has taken a 12.6 percent stake in Hologic (NASDAQ: HOLX) "on the belief that shares are undervalued." Shares closed the day higher by 1.93 percent, closing at $22.71.
McDonald's (NYSE: MCD) is hoping the company's coffee business expanding to selling at grocery stores will offset the restaurant business which is "very soft" right now. Shares closed the day little changed, up 0.16 percent at $97.90.
Yahoo! (NASDAQ: YHOO) increased its offering of convertible notes to $1.25 billion, from a reported $1 billion that was revealed yesterday. Shares rose 1.91 percent, closing the day at $36.30.
Apple (NASDAQ: AAPL) might increase the price of its next iPhone following reports the company is making changes to its supply chain management. The moves is expected to boost the company's margins. Shares gained 1.17 percent for the day, closing at $521.02.
Related: Apple Might Increase the Price of the Upcoming iPhone 6
FBR Capital Markets initiated Facebook (NASDAQ: FB) with an Outperform rating and a $60 price target. "No one really knows how big Facebook can be" and "an investment in a large-scale data-rich platform run by a group of highly innovative people who are likely to continually develop more ideas for improving engagement and monetizing it." Shares inched higher by 0.60 percent, closing at $46.71.
Intel (NASDAQ: INTC) promised to quadruple its tablet CPU shipments in 2014, according to CEO Brian Krzanich during the company's investor day. Shares closed higher by 2.73 percent at $25.23, shy of its 52 week highs of $25.98 that was established in June.
Medidata Solutions (NASDAQ: MDSO) gained 7.82 percent, closing at $116.91 following the company raising its long term revenue growth target in a 20 percent to 25 percent range.
SolarCity (NASDAQ: SCTY) received a boost today with bullish comments coming from Axel Capital. The analyst placed an $80 price target on shares that have been beaten up as of late. Shares closed higher by 4.62 percent at $48.03. Shares were trading as highs as $65.30 at the beginning of the month.
David Einhorn disclosed his hedge fund is still short Chipotle Mexican Grill (NYSE: CMG). Investors seemed to have shrugged off the disclosure, as shares gained 1.49 percent, closing at $539.56.
Philip Morris International (NYSE: PM) was downgraded to Neutral from Conviction List Buy at Goldman Sachs (NYSE: GS) a day after the company issued a negative outlook for 2014. Shares closed lower by 3.01 percent at $86.61.
Related: Philip Morris To Enter The Electronic Cigarette Business
Winners of Note
Green Mountain Coffee Roasters (NASDAQ: GMCR) reported its earnings last night which seemed to have delighted investors. The company reported a beat on all fronts, strong revenue growth, a dividend and a $1 billion buyback program. Shares gained 14.14 percent, closing at $70.57.
Shares of Micron Technology (NASDAQ: MU) gained 6.22 percent, closing at $19.97 after David Einhorn reportedly disclosed a long position in the firm. Shares hit a new 52 week high today of $20.11.
Shares of Horizon Pharma (NASDAQ: HZNP) gained 9.20 percent, closing at $6.52. The company received some favorable press during Jim Cramer's Mad Money episode. "This is pain management pharma. It has tremendous demand. It is a good spec along those lines," Cramer said last night.
Decliners of Note
A negative piece from Barron's surfaced over the weekend which argued that oil tank car makers may have gotten ahead of themselves in estimating demand. Today, three companies were downgraded by Raymond James. Trinity Industries (NYSE: TRN) lost 5.35 percent, closing at $50.67. American Railcar (NYSE: ARII) lost 7.09 percent, closing at $41.80. Greenbrier (NYSE: GBX) lost 5.89 percent, closing at $29.41.
FAB Universal (NYSE: FU) plunged 25.66 percent, closing at $3.01 as fraud accusations continue to pour in. An article by GeoInvesting was released today alleging the company issued Chinese bonds without disclosing the fact to U.S. investors. Shares
Lidquity Services (NASDAQ: LQDT) hit fresh 52 week lows after the company guided its upcoming quarter EPS to a $0.20 to $0.24 range, well below the $0.63 consensus. Shares lost 18.75 percent, closing at $21.12.
Voxeljet AG (NYSE: VJET) was the subject of a negative Citron Research report yesterday. Shares continued to decline during today's session, losing another 13.86 percent today, closing at $33.78.
Earnings of Note
Premarket, Sears Holding (NASDAQ: SHLD) reported a loss of $2.88 a share. The loss came in better than expected with the Street looking for a loss of $3.39. Revenue, however came in short of expectations at $8.72 billion, with the Street looking for $8.39 billion. Shares lost 2.87 percent, closing at $59.83.
Investors can "Blame Canada" for Target's (NYSE: TGT) third quarter earnings falling short of expectations.. The company's EPS of $0.54 came in short of the Street's expectation of $0.64. Revenue of $17.26 billion came in short of the Street's expectation of $17.39 billion. The company reported poor results from its Canadian stores, in addition to reporting a decrease of 30 bps in its gross margin in its U.S. stores. Shares closed 3.44 percent lower at $64.20.
Dollar Tree (NASDAQ: DLTR) missed its third quarter earnings with both EPS and revenues falling short. The company's EPS of $0.58 came in short of the Street's expectation of $0.60. Revenu of $1.88 billion came in short of the Street's $1.91 billion. The struggling retailer has been operating in a difficult and uncertain macro economic environment and as such lowered its fiscal 2013 earnings guidance to $2.72 to $2.78 range, well below the $2.82 the Street had previously estimated. Shares lost 4.45 percent for the day, closing at $56.30.
GameStop (NYSE: GME) reported third quarter EPS of $0.58, coming in a penny above the Street's expectations. Revenues also beat expectations coming in at $2.11 billion, compared to expectations of $1.98 billion. Most impressive was the company's reported comparable store sales which increased 20.5 percent. However, the positives was not enough to keep the stock in positive territory for the day as fourth quarter guidance came in below expectations. The company sees the upcoming quarter EPS in the $1.97 to $2.14 range, below the $2.15 the Street was hoping for. Shares lost 6.94 percent, closing at $48.80.
Post market, Pandora Media (NYSE: P) reported an in-line EPS of $0.06. Revenue of $181.6 million beat estimates of $174.8 million. Initial reaction for shares was a move lower by around 3 percent.
Related: Pandora Earnings Preview: What The Analysts Are Saying
Quote of the Day
"I don't throw darts at a board. I bet on sure things. Read Sun-tzu, The Art of War. Every battle is won before it is ever fought." - Gordon Gekko in the 1987 film Wall Street.
Posted-In: 3D printers Apple bailout Bank of Japan Barron'sNews Short Sellers After-Hours Center Best of Benzinga
View Comments and Join the Discussion!