Sign of the Times: Another Ultra-Long Business Flight is Permanently Grounded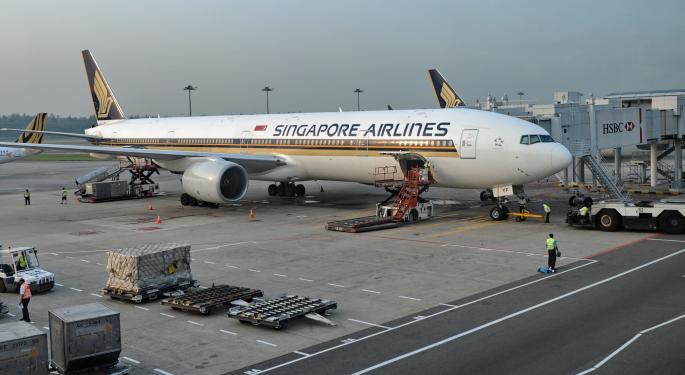 Here's something to keep in mind if you find yourself stuck at an airport over the holidays: at least you're not flying on one of those seemingly endless, ultra-long-distance flights that have been a business-class staple for years.
But the era of ultra-long business flight appears to be ending.
Business travel columnist Joe Brancatelli reports the world's longest non-stop commercial route, the Singapore Airlines (OTC: SINGY) 18-hour, business class-only flight between Newark, N.J. and Singapore, will end on Saturday. The airline also retired the world's second-longest non-stop flight, Los Angeles-to-Singapore, last month.
Related: Boeing's New Airliner Tops Big Year for the Stock
The 9,320 mile (15,332 kilomter) Newark flight began back in 2004 with great success – but it's apparently fallen victim to both rising fuel prices and an overall corporate belt-tightening that began with the start of the global recession in 2008.
Brancatelli says the Newark-Singapore flight is just the latest long-haul route to be taken out of service by the airlines. Philippine Airlines halted its 16-hour Toronto-to-Manila flights earlier this year. Delta (NYSE: DAL) ended its 16-hour Detroit-to-Hong Kong run last year and its 17-hour Atlanta-to-Mumbai route in 2009 – while American Airlines (OTC: AAMRQ) discontinued its 15-hour Chicago-to-New Delhi flights in 2012.
And the Wall Street Journal  points to another factor hastening the demise of long-haul business flights: the rise of discount airlines in Asia.
"Budget airlines now account for one-quarter of Asia-Pacific airline traffic," the newspaper noted last year, "with their more competitive pricing forcing legacy airlines to discount."
The change means Singapore Airlines, the fifth-largest Asian air carrier serving the U.S. market, will lose its competitive advantage, especially with very lucrative, premium-travel customers.
"A business that relies more on premium customers than on economy (class) would be hardest hit…including quite a few of the legacy carriers, particularly Singapore Airlines and Cathay Pacific (OTC: CPCAY)," Paul Ng, global head of aviation for law firm Stephenson Harwood, told the WSJ.
Related: Global Eagle Entertainment Wi-Fi service on Southwest Airlines Now Available Gate to Gate
For American businesses with interests in Singapore, one of Asia's most important business hubs, the change also means a loss of another precious commodity: time.
"Losing the nonstops means adding at least two hours and as many as five hours to a Singapore itinerary," Brancatelli laments. "Fliers in the New York metropolitan area who want to continue flying Singapore Airlines must use its connecting service from John F. Kennedy Airport via Frankfurt. For Southern California fliers loyal to Singapore Airlines, it's now an LAX-Tokyo-Singapore connection."
View Comments and Join the Discussion!
Posted-In: News Commodities Travel Economics Markets Media Interview General Best of Benzinga