Boeing's New Airliner Tops Big Year for the Stock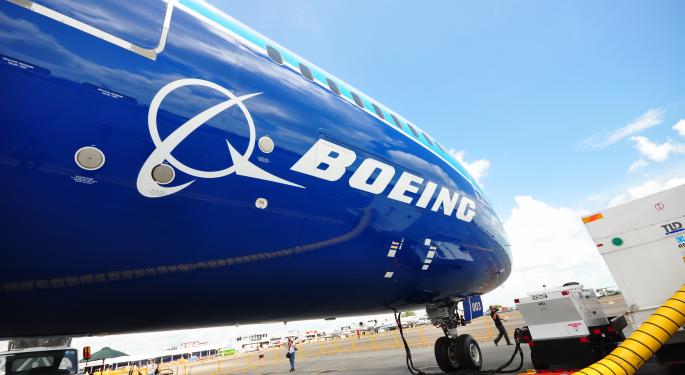 A new aircraft doesn't attract the same attention as an iPhone but at the Dubai Air Show this week, Boeing (NYSE: BA)'s release of its new 777X aircraft received a response equivalent to Apple (NASDAQ: AAPL)'s latest iPhone release: excitement and a whole lot of orders.
The company has already logged $100 billion in orders for the $350 million 777X. In a display that proves that the market for Boeing is clearly overseas, Middle Eastern airlines placed orders for more than 600 aircraft from Boeing and Airbus combined. 224 of those orders were for the 777X—a record number of orders for any wide-body airplane.
What's so special about the new aircraft? It's a revamp of the 777 line of aircraft that first took flight in 1994. It borrows technology from the new 787 including a more comfortable cabin and 787-shaped wings made from composite material. Boeing claims that the new GE9X engines make the plane 12 percent more efficient than any competing aircraft.
Because the 233-foot wingspan is the longest ever for a twin-engine aircraft, it would not fit into most airports. Boeing solved that issue by making fold-able wing tips similar to military aircraft that fold their wings while on an aircraft carrier.
Related: Tesla: Stay Away Or Buy The Big Dip?
People familiar with the industry knew that Boeing was designing a new long-range twin-engine aircraft to compete with the Airbus A350 that is well into flight testing. Boeing has lost some market share in the long-range market—it's most profitable segment.
But it's not just the 777X that has investors happy. Despite all of the problems surrounding Boeing's 787 Dreamliner, the stock has seen gains normally reserved for much smaller companies—certainly not an industrial stock.
Boeing has silently logged gains of more than 77 percent in 2013 and nearly 89 percent in the past 52 weeks. Investors who held the stock for two years have seen their position double. Add to that the company's 1.4 percent dividend and Boeing has made even those who entered the stock much later in the rally, a sizable gain.
Is the stock still a buy? Buying at these levels doesn't make for a risk/reward that a value investor would find attractive but the chart shows no reason to believe that the upside momentum surrounding the stock is running out. However, much like Tesla (NASDAQ: TSLA) of late, when the rally ends, there's room for a severe downside move. Investing in momentum stocks requires tight stops.
Disclosure: At the time of this writing, Tim Parker was long Apple.
Posted-In: 777X 787 Dreamliner Airbus AppleNews Contracts Events Global Best of Benzinga
View Comments and Join the Discussion!