Benzinga's M&A Chatter for Tuesday November 19, 2013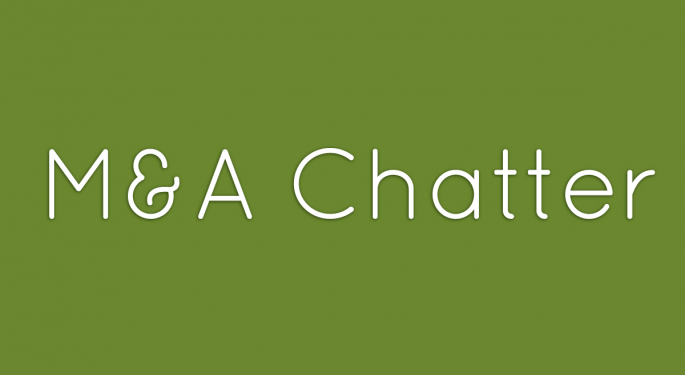 The following are the M&A deals, rumors and chatter circulating on Wall Street for Tuesday November 19, 2013:
Report Devon Energy Near $6B Deal for GeoSouthern
The Rumor:
Shares of Devon Energy (NYSE: DVN) rose 5% Tuesday on a report from Wall Street Journal the company was close to a deal to acquire GeoSouthern Energy for $6B, according to sources. The deal reportedly could be announced on Wednesday.
Spokespersons from Devon and GeoSouthern were unavailable for comment.
Devon Energy closed Tuesday at $62.77, a gain of 5%.
Report Ellie Mae Bidders Balking on Valuation
The Rumor:
Shares of Ellie Mae (NASDAQ: ELLI) gapped lower Tuesday on a report from Deal Reporter that potential bidders for the mortgage software company are weary on valuation.
On November 12, Inside Mortgage Finance reported that at least three firms had interest in acquiring the company. On August 8, Bloomberg reported that Ellie Mae was interviewing advisors to handle a potential sale. On September 3, Reuters reported the company had hired Morgan Stanley.
A spokesperson for Ellie Mae was not Available for Comment.
Ellie Mae closed Tuesday at $26.63, a loss of 3%.
Clovis Oncology Acquires EOS for Upfront Payment of $200M in Cash/Stock Transaction
The Deal:
Clovis Oncology (NASDAQ: CLVS) announced Tuesday that it has acquired privately-held Italian biopharmaceutical company EOS, which owns the exclusive global (excluding China) development and commercialization rights for lucitanib, an oral, dual-selective inhibitor of the tyrosine kinase activity of fibroblast growth factor (FGF) receptors 1 and 2 (FGFR1/2) and vascular endothelial growth factor (VEGF) receptors 1-3 (VEGFR1-3). EOS sublicensed lucitanib rights in Europe and the rest-of-world (ROW) markets, excluding China, in 2012 to Les Laboratoires Servier. Clovis holds exclusive U.S and Japan rights for lucitanib and will collaborate with Servier on the global clinical development of lucitanib.
Clovis is acquiring EOS for an up-front payment of $200 million, of which $190 million is in Clovis common stock and $10 million in cash. Clovis will pay an additional $65 million in cash upon initial FDA approval of lucitanib. Clovis is entitled to receive up to $470 million in milestone payments and royalties. Clovis will pay EOS shareholders up to an additional $155 million in cash upon the receipt by Clovis of certain of the milestone payments pursuant to the Servier license agreement.
Clovis Oncology closed Tuesday at $46.76, a loss of more than 3%.
View Comments and Join the Discussion!