Some Say Pre-Thanksgiving Sales Push May Not Be Effective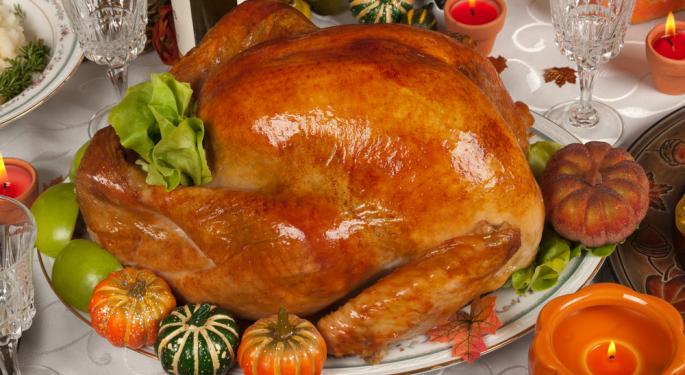 Black Friday, as the official start of the holiday shopping season, is over.
Thanks to a shortened holiday calendar with only four weeks between Thanksgiving and Christmas (not to mention the fact Hanukkah begins November 27), many retailers had already planned an early start to this important part of the retailing calendar by opening Thanksgiving evening.
Kmart blew that strategy up when it said it would open at 6 a.m. Thanksgiving Day. Now a number of companies have thrown the gloves off completely and either announced Black Friday deals well ahead of time – or actually started offering their cut-rate sale prices as early as – right now.
The question is, "Will it make a difference?"
Among retailers who have already started holiday sales events are Amazon (NASDAQ: AMZN) and Wal-Mart (NYSE: WMT). Target (NYSE: TGT), Disney (NYSE: DIS), Kmart and Sears are among those starting their sales this coming weekend.
Related: Will Kmart's 41-Hour Thanksgiving Shop-a-thon Be Enough?
Imran Jooma, a Sears Holdings (NASDAQ: SHLD) VP told USA Today, "Sears Holdings made the decision to offer early deals and door-busters based in part on feedback from our Shop Your Way members, who sought more flexible holiday shopping times and eagerness to shop door-buster deals."
In addition to pressure from consumers, the rush to increase traffic relates back to competition between and among retailers hoping to get their share of what is expected to be about $602 billion in holiday sales, according to the National Retail Federation.
All this, led Ronald Goodstein, Associate Professor of Marketing at Georgetown University's McDonough School of Business to express doubt about the benefit of attempts to extend the shopping season into the pre-Thanksgiving period.
Goodstein told USA Today, "The idea that if we do it earlier, consumers are going to shop more and more deeply — that's fiction. People have a set budget they can afford in this economy. All (retailers) are really doing is substituting an earlier shopping spree (for) a later shopping spree."
In addition, shopper fatigue may already be setting in. According to a Nielsen survey, Monday, only 13 percent of consumers had interest in shopping on Black Friday. Last year it was 17 percent.
On the other hand, if the goal was to put consumers in a holiday shopping mood early, that part seemed to be working. The National Retail Federation reported that nearly 54 percent of shoppers said they had already started shopping. That is the largest number in the survey's history.
The unanswered question for retailers has to do with whether all this early shopping would result in a lull in the period between Thanksgiving and Christmas – thereby negating any gains made prior to that time.
At the time of this writing, Jim Probasco had no position in any mentioned securities.
View Comments and Join the Discussion!
Posted-In: Amazon Black Friday Christmas disneyNews Retail Sales Events Media Best of Benzinga