JPMorgan Chase Said to Agree to $13 Billion Settlement with Justice Department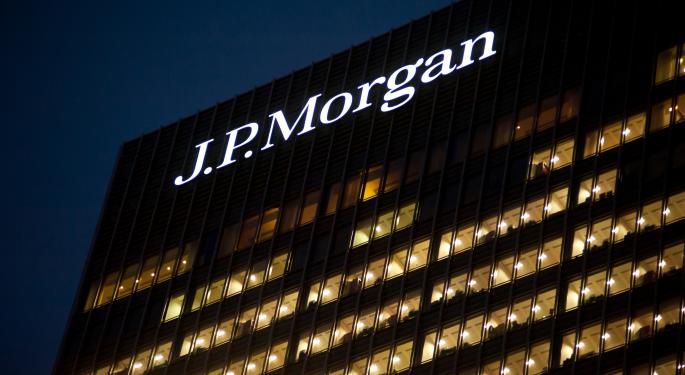 According to The New York Times, the U.S. Justice Department planned to announce as early as Tuesday, a $13 billion settlement with JPMorgan Chase (NYSE: JPM).
Sources told the newspaper Monday that the deal, related to the Wall Street bank's mortgage practices prior to the 2008 financial crisis, was in its final stages.
The settlement, which includes $4 billion in relief for homeowners, requires JPMorgan to obtain the services of an independent monitor to oversee distribution of that relief fund, according to those sources.
Following the 2008 crisis, federal and state investigators began looking into whether banks such as JPMorgan and others had warned investors of the risks associated with securities they had sold. Prosecutors have alleged that JPMorgan knowingly sold securities made up of what they knew to be bad mortgages.
Related: JPMorgan Will Likely Pay the Government $13 Billion to Settle Civil Claims
The $4 billion in homeowner relief included about $2 billion targeted at reducing mortgage balances in high foreclosure areas. Most of the rest would be earmarked to reduce interest rates on existing loans and provide new low-interest loans to low-income borrowers. About $500 million would appear as a credit to JPMorgan for temporarily halting the collection of mortgage payments.
JPMorgan would also pay a $2 billion fine to prosecutors in California who had originally planned to sue the bank for failing to disclose fully risks associated with buying the bank's mortgage securities.
The final $7 billion of the $13 billion would be designated as compensation for investors including the Federal Housing Finance Agency, which oversees Fannie Mae and Freddie Mac. Fannie Mae and Freddie Mac had purchased billions of dollars in securities from JPMorgan that later turned out to be worthless.
An important component of the settlement included a government-imposed deadline for JPMorgan Chase to finalize the $4 billion consumer relief portion. According to a source who spoke with The Washington Post, the bank would have until the end of 2016 to spend the entire amount. If it failed to do so, it would be required to pay all unexpended funds – either to the federal government or to a designated nonprofit organization that assists low-income homeowners.
In an unprecedented move, as part of the settlement, JPMorgan could receive credit for demolishing foreclosed homes in certain areas in which foreclosures have been unusually high. This type of credit, according to The Washington Post, has not been part of any previous agreement.
In response to news of the agreement, former Securities and Exchange Commission lawyer, Jacob Frenkel told Bloomberg, "It's good they're getting this done, but it's a fairly narrow band of cases they are settling." Frenkel added, "There are still other open investigations that this doesn't address, and those will run their course."
At the time of this writing, Jim Probasco had no position in any mentioned securities.
Posted-In: California fannie mae Federal Housing Finance Agency freddie mac Jacob FrenkelNews Legal Media Best of Benzinga
View Comments and Join the Discussion!