Tesla: Stay Away Or Buy The Big Dip?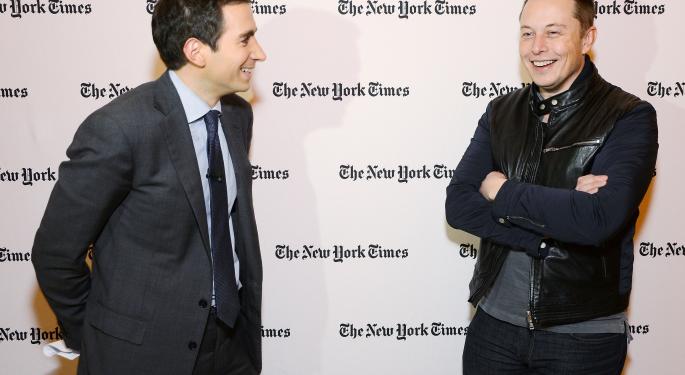 Tesla (NASDAQ: TSLA) is finally doing what everybody has waited for: It's dropping, and as those same people expected, it's falling hard.
Monday, Tesla lost another 10 percent of market cap and in premarket trading Tuesday, it's giving back an additional three percent. In total, the stock is down 37 percent since its $193 high.
Thirty-seven percent certainly qualifies for one of those powerful stock market words like "crash", "plunge", or "plummet" but let's look at it in the context of this particular stock.
Without the recent drop, Tesla is up 280 percent this year alone. Even CEO Elon Musk has said on multiple occasions that in the company's current state, the market has it overvalued. Regardless of the gains, watching a stock you own drop 37 percent is painful but the question now is, where is it going next?
There are plenty of people speculating on why the stock is tumbling. Much of the talk centers on safety concerns surrounding its Model S after recently reporting a third fire.
But if that's the reason for the drop, then it may very well be a buying opportunity if you believe people like Kevin Yu, Tesla's Asia-Pacific Director. "I think the most important thing to remember when we talk about the accidents is that they were accidents," he said. "They were not a result of a spontaneous fire."
Others say the concern isn't about the cause of the fires but instead, the car's ability to withstand the normal hazards associated with everyday driving. The most recent fire was a result of the car running over a tow hitch that breached the plating protecting the batteries.
Related: Industrial Accident At Tesla Plant, Not Fire, Injures Three
There were also reports that the company faces an investigation at its California plant after an accident that injured three workers but that hardly seems like a reason for a stock to drop 10 percent in a single day.
The real reason is likely one that has played out so many times in the past: a high multiple stock that ran up rapidly and is now correcting to more realistic and sustainable levels. If that's the case, it's the correction that everybody has waited for.
The next major area of support sits at the stock's 200-day moving average of  $107.33. If it can find meaningful support at that level, Tesla is likely to find healthy buying interest. If it breaches that level, there may be more pain ahead.
Disclosure: At the time of this writing, Tim Parker had no position in the company mentioned. 
Posted-In: Elon Musk TeslaNews Technicals Events Tech Trading Ideas Best of Benzinga
View Comments and Join the Discussion!