Samsung's Galaxy Gear an Epic Failure—Or is it?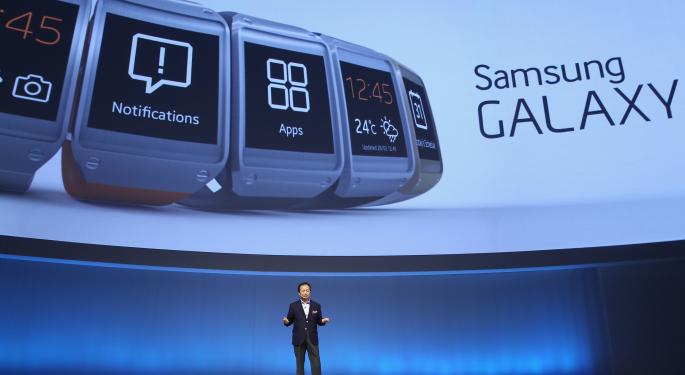 Investors, techies and consumers were all surprised by the announcement that Samsung (OTC: SSNLF) had produced a smart watch and brought it to market so quickly.
After all of the talk of Apple (NASDAQ: AAPL) working on one of its own, came out of nowhere.
But one report notes that the rush to get it on store shelves is not paying off for the company. In fact, it's been a huge failure. According to Business Korea, Samsung's Galaxy Gear smart watch has only sold about 50,000 units—an average of between 800-900 per day according to estimates. That's well below Samsung's estimates.
The company's other big product to reach the market, its curved smartphone, the Galaxy Round, has only sold about 10,000 units in its first nine days. Compare that to the Galaxy S4 that sold 10 million units in the first month and Apple's 9 million iPhones in their first weekend and you see why 10,000 is so disappointing. (To be fair, the Galaxy Round was not meant to be a mass seller, according to speculation.)
But back to the smart watch.
Reviews are mixed. Engadget published a thorough review of the watch ending with
This: "The Galaxy Gear is a solid effort from Samsung, but it needs time to grow and develop…"
Related: iPhone 7 Processor To Be Built By Samsung, Globalfoundries
This seems to be the consensus. The product is a good start but because it's only compatible with two devices (but will expand to five), it's lack of an ecosystem, and not being available to developers, there's not enough mass-market appeal for it to be a mass seller.
Well-known tech reviewer David Pogue said that the Gear is "inconsistent and frustrating" and advised readers not to buy it.
Oddly, earlier Tuesday, Samsung announced different figures. According to the company, it has sold more than 800,000 Galaxy Gears. That would make it the world's most popular smart watch and surpassing Samsung's own expectations.
Why is there a 750,000 different between sales figures? With Samsung's data being so new, that's a question investors and tech bloggers will likely ask for days not just for this product but for overall smart watch demand. If Samsung's numbers are true, that's good news for the wearable technology market. If 50,000 is more accurate, that's concerning.
All eyes remain on Apple. Will it release a watch and will it suffer the same fate as so many other wearable technologies? Tepid demand and lack of excitement?
Disclosure: At the time of this writing, Tim Parker was long Apple.
Posted-In: Apple Engadget SamsungNews Rumors Tech Best of Benzinga
View Comments and Join the Discussion!