How Low Will Gas Prices Fall?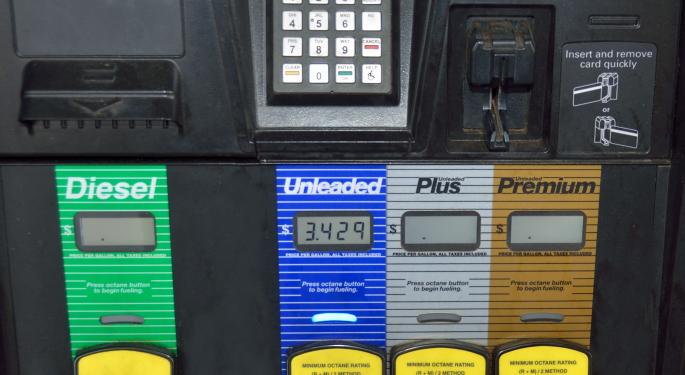 As the week begins, it's costing Americans roughly 11 percent less to gas up their vehicles than it did in early September. In fact, the price of gasoline is at its lowest level since the Libyan revolution erupted in early 2011.
What's not clear is if the gas-price declines are done. The consensus seems to be maybe.
The situation Friday was that the national average price of regular unleaded gasoline was $3.199 a gallon, up slightly from Thursday, according to AAA's Daily Fuel Gauge Report. And up from the year's low price, $3.179 a gallon, set on Tuesday.
Some 15 percent of all U.S. gasoline stations priced the product under $3 a gallon, according to GasBuddy.com, another pricing service.
Friday's price was substantially lower than the September 2 peak price of $3.594 a gallon. And if you really want to smile, Friday's price was 15.5 percent less than the peak price for the year, $3.786 a gallon, set on Feb. 27.
The reason prices were moved up in February and September was Middle East tensions. In February, the talk was it was just a matter of weeks or even days about Israeli attacks on Iranian nuclear facilities. So, light sweet crude and Brent crude, traded in London, surged quickly. These are the crudes that have the largest effect on U.S. gasoline prices,
In the late summer, President Obama wanted to attack Syria for making and using sarin, a deadly nerve gas. He later ditched the idea in the face of widespread opposition. But for several weeks, the debate raged, and crude oil jumped about 12 percent, dragging gasoline prices with it.
When Syria agreed to dismantled its sarin facilities, crude oil prices globally moved lower. And so did gasoline. In fact, light sweet crude ended the week at $93.84 a barrel, down 0.8 percent. It was the sixth week in a row of price declines.
There were several other non-factors in 2013 that were real factors in 2012 said Fred Rozell, retail pricing director of Oil Price Information Service, which collects the data that AAA uses.
2012 prices were affected by a number of big refinery shutdowns and by Hurricane Sandy, which hit the East Coast over the last weekend of October and shut down refineries, pipelines and storage operations. In fact, the 2013 hurricane season has been remarkably benign at least for the United States.
Plus, higher prices in 2011 and 2012 probably induced motorists to drive less.
This last point needs a little amplification. According to a recent column by Barry Ritholtz on Bloomberg.com, Americans are still not driving as many miles as they did before the 2008 financial crisis. Partly, that may be due to continued high unemployment. It's also true that many people are able (or forced) to work from their homes. So they aren't commuting. Ritholtz based his conclusions on data developed by economic consultant Doug Short.
The raw numbers suggest only a modest decline, but, if you adjust for the population growth, as Short did, the decline on a per capita basis is quite large.
What's ahead: Prices may come down a little more, Rozell thinks and bottom in early January or so. Then, U.S. refineries will start to produce gasoline for the summer driving season. This is gas formulated to work properly in warmer weather and meet domestic clean-air rules. U.S. demand drops in the fall and winter because Americans drive less. Demand – and prices – pick up in spring and summer when vacation travel ramps up.
Absent a serious Middle East event, don't expect a big run-up in oil and gasoline prices. One reason is the new supplies coming to market from the shale deposits around the country but especially in North Dakota. In fact, the United States produced more crude oil than it imported in October: 7.7 million barrels per day in October, compared with 7.6 million of imports.  
Still, crude oil is among the most political of commodities. The mere whiff of tensions in the Middle East can cause speculators to bid oil prices higher. That happened this week as talks between Iran and western nations broke down.  Crude oil in New York moved up 0.8 percent on Wednesday, Thursday and Friday. Brent crude climbed 3.2 percent to $108.50 a barrel over the past week. 
Posted-In: Barry Ritholtz Fred RozellNews Commodities Economics Markets Personal Finance General Best of Benzinga
View Comments and Join the Discussion!