Warren Buffett Reveals $3.7 Billion Exxon Buy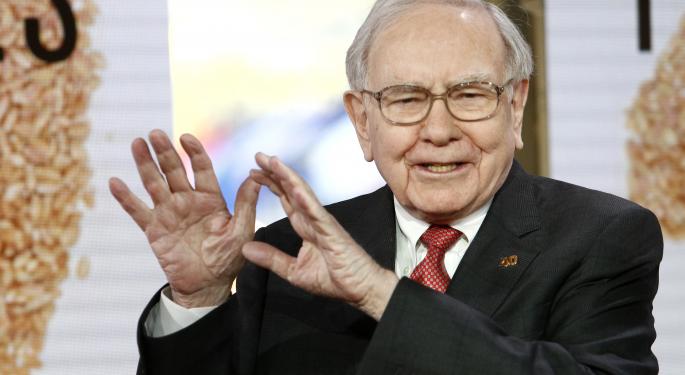 Warren Buffett's Berkshire Hathaway Inc. (NYSE: BRK-A) just reported a $3.7 billion stake in Exxon Mobile (NYSE: XOM).
In a move Bloomberg said was the company's largest new holding since investing $10 billion in International Business Machines Corp. (NYSE: IBM) in 2011, Buffett acquired 40.1 million shares of Exxon stock September 30.
Exxon closed Thursday at $93.22 and was up more than 1.2 percent at $94.40 in early trading Friday.
David Kass, business professor at the University of Maryland's Robert H. Smith School said Buffett believes Exxon is "undervalued, in his opinion, and pretty much being ignored by the market." Kass added that Buffett knows the company well. This is evidenced by the fact Buffett had a stake in Exxon as recently as 2011.
Based on Thursday's SEC filing, about three-quarters of Berkshire's Exxon holdings were added in the three months ending June 30, 2013. As often happens with Buffett and other large investors, the U.S. Securities and Exchange Commission let the company temporarily withhold public disclosure of the buy to limit copycat investing.
Buffett and Berkshire also sold 44 percent of its ConocoPhillips (NYSE: COP) holdings in the three months leading up to Sept. 30. In 2009, Berkshire showed its worst quarterly loss in two decades based on a decline in the value of its ConocoPhillips stock. Buffett attributed the loss to the fact he invested in the company when oil prices were too high.
Exxon spends $19.27 to find a barrel of crude oil, making it one of the most efficient in the industry. By comparison, Chevron (NYSE: CVX), Exxon's next-largest U.S. rival, spends $21.48 per barrel.
Buffett's new investment represents only 0.9 percent of Exxon's shares, but as Pavel Molchanov, energy analyst at Raymond James & Associates told Reuters, "When Warren Buffett gives his seal of approval to any company that is never a bad thing." Raymond James rates Exxon a "strong buy."
Radel Gheit, senior oil analyst at Oppenheimer & Co, which has a "perform" rating on Exxon, said "He (Buffett) likes buying big, established global brand names, and Exxon is a good flight-to-quality stock."
Exxon representative, Alan Jeffers, said simply, "We appreciate the confidence investors have in Exxon Mobil when they decide to invest in the company."
While Berkshire's quarterly filings do not reveal who buys or sells which stocks, Buffett has said he likes to personally make the company's largest investments.
At the time of this writing, Jim Probasco had no position in any mentioned securities.
Get all the #premarket info by listening in to Benzinga's morning show at 8:00 am EST Monday-Friday!
Posted-In: Warren BuffettNews Trading Ideas General Best of Benzinga
View Comments and Join the Discussion!