Benzinga Weekly Preview: PMI Data In Focus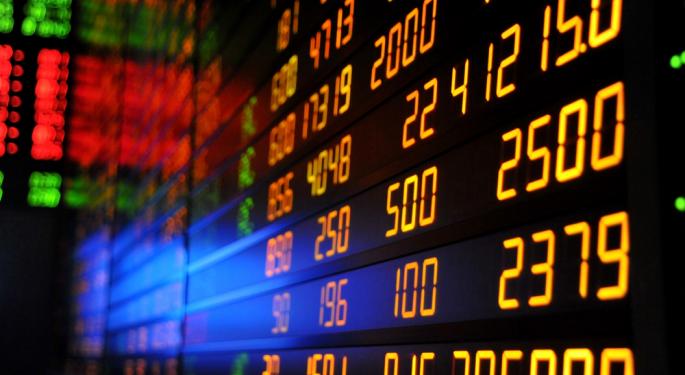 Several important PMI reports are due out next week including data from the US, China and the eurozone.
Now that US Federal Reserve taper worries have been postponed until 2014, investors are looking to China for any indication that the nation's economy is picking up. Most expect to see better figures from both China and the US next week as the two largest economies gain momentum.
Key Earnings Reports
Next week investors will be waiting for several key earnings reports including J.C. Penney Company (NYSE: JCP), Campbell Soup Company (NYSE: CPB), Green Mountain Coffee Roasters, Inc. (NASDAQ: GMCR), Salesfore.com, Inc. (NYSE: CRM), and Home Depot, Inc. (NYSE: HD).
J.C. Penney Company
JC Penney is expected to report a third quarter loss of $1.75 on revenue of $2.08 billion, compared to last year's loss of $0.93 on revenue of $2.93 billion.
The analyst team at Oppenheimer had a Perform rating on JC Penney with a $7.00 price target on November 7. The firms report was based on a "surprise release" issued by JC Penney which detailed the company's progress on its turnaround efforts.
"Comp-store sales in October improved to +0.9%. Gross margin pressures have eased as JCP has worked through clearance merchandise. We view better trends at JCP as a meaningful step forward for the chain. The company's turnaround, however, still has a long ways to go. We indicated recently that sales/sq. ft at JCP need to reach about $130 (from $108 currently) in order for the company's business model to prove "cash sustainable."
Sterne Agee's report from the same day gave the company a similar Neutral rating with a price target of $9.00. Analysts at Sterne Agee believe the company is not improving at an acceptable rate and chose to maintain its Neutral rating despite the JC Penney release.
"In the release, JCP reported that SSS improved 490 bps sequentially from -4.0% in September to 0.9% in October - exactly as it had forecasted back in mid-August and once again in early October. At the same time, sales on jcp.com continue to improve, increasing 37.6% YOY relative to a 25.3% lift in September. On the positive side, average transaction value and UPT improved. On the negative side, both AUR and traffic declined – the latter of which is both disturbing and surprising."
Campbell Soup Company
Campbell Soup is expected to report third quarter EPS of $0.87 on revenue of $2.29 billion, compared to last year's EPS of $0.88 on revenue of $2.34 billion.
Morgan Stanley had an Underweight rating on Campbell Soup Company with a $41.00 price target at the end of October. The report was issued shortly after a meeting with Campbell's management at which the company remained positive about the sustainability of Soup growth.
"We recently met with NA President Mark Alexander and SVP Finance Anthony DiSilvestro, and – despite our continued concerns regarding structural headwinds in several key CPB categories – came away with increased conviction that the company is committed to and making some tangible progress in its efforts to return to profitable growth."
On November 11, Deutsche Bank had a Hold rating with a $45.00 price target. The analyst team at Deutsche Bank said acknowledged the long term possibilities for the company, but remained cautious as it will likely face several headwinds in the short term.
"We expect a focus on core soup trends vs. a tough US industry backdrop. Investors will also look for an update on other key businesses incl. the solid baking & snacking vs. troubled beverages and foodservice. Last, commentary around recent M&A activity (Plum/Kelsen acq., EU soup divestiture) or prospects will likely be of interest."
Green Mountain Coffee Roasters, Inc.
Green Mountain Coffee is expected to report third quarter EPS of $0.75 on revenue of $966.27 million, compared to last year's EPS of $0.64 on revenue of $946.74 million.
Merrill Lynch had a Neutral rating on Green Mountain Coffee Roasters with an $85.00 price objective on September 11. The report was issued after Green Mountain's investor meeting at which management expressed plans to enhance its hot beverage platforms as well as expand into cold beverages.
"Key initiatives for expanding hot beverages are 1) Enhanced retail presence emphasizing the Keurig umbrella brand, 2) expanding the away from home channels, 3) convert unlicensed brands and expand brand offerings (enabled by the introduction of Keurig 2.0 which could effectively re-close the system, 4) sharpen marketing and make a regional push, and 5) begin international expansion."
At the same time, Canaccord Genuity had a more aggressive stance, with a Buy rating and a $95.00 price target.
"We expect several years of strong revenue and earnings growth driven by rising penetration of Keurig single-cup coffee makers in North American households and expanded use into adjacencies such as cold beverage and soups."
Salesfore.com, Inc.
Salesforce.com is expected to report third quarter EPS of $0.09 on revenue of $1.05 billion, compared to last year's EPS of $0.08 on revenue of $788.40 million.
Goldman Sachs has a Buy rating on Salesforce.com with a $60.00 price target and expects the company to provide better than expected projections for FY15.
"We reiterate our CL-Buy. Given the scarcity value of strong secular growth opportunities with expanding addressable markets, we see salesforce.com as well positioned as we move closer to CY14. Further, not only do we expect another strong quarter, but we see 30% bookings growth in FY15. Our 12-month price target is $60 (DCF, EV/bookings, P/CFO). At around $56, CRM trades at 43x and 35x our CY13 and CY14 CFO per share estimates of $1.31 and $1.59 (consensus $1.35 and $1.65)."
Oppenheimer has an Outperform rating on Salesforce.com with a $60.00 price target, citing strong business trends and upcoming innovations for their optimism.
"Recent checks point to healthy demand trends for salesforce.com and suggest the force.com platform business is "taking off," with ASPs on the rise, partially aided by a price increase instituted from bundling of products. On balance, some partners experienced softer close rates last month as a byproduct of the federal shutdown. We therefore think 3Q results and guidance could provide less upside than seen last quarter. Bottom Line: CRM remains the best long-term growth investment in our software universe, in our view, and continues to benefit from an escalating SaaS opportunity in the enterprise market. We believe strong growth in 2014 with less M&A will lift CRM's margins, while new sales leadership should improve productivity and put upward pressure on billings."
Home Depot, Inc.
Home Depot is expected to report third quarter EPS of $0.89, compared to last year's EPS of $0.74.
JP Morgan has an Overweight rating on Home Depot with an $86.00 price target on November 13, citing positive sales performance as well as favorable seasonality for their confidence.
"Overall, we believe trends were generally (and relatively) strong throughout the quarter and the category has many favorable dynamics at its back including favorable macro tailwinds, depressed share (Figures 3-6) in a durable goods category (that is subject to maintenance and replacement cycle dynamics, e.g., appliance shipments up DD YTD), and the duopolistic nature of the industry. Indeed, HD and LOW should continue to have some of the best comps in mid to large cap, exgrowth retail."
As of November 7, Merrill Lynch had Home Depot a $90.00 price objective and reiterated its Buy rating.
"Our 12-month price objective of $90 is based on 20x our 2014E EPS. Over the past five years, Home Depot shares have traded between approximately 10x and 20x. We believe the shares should trade at the upper end of this range based on further upside to our estimates given consistent execution and strong industry fundamentals. Downside risks are further weakening in the housing market, deterioration in the competitive landscape, unseasonable weather and poor execution in supply chain upgrades. Upside risks are a noticeable acceleration in the housing market or further acceleration in same-store sales trends."
Economic Releases
European data will be closely followed next week after data from last week showed that the eurozone's recovery was sputtering. Several important PMI figures will be released from nations like Germany and France and investors will be watching for the region's November data for fresh clues about the bloc's economic health.
Daily Schedule
Monday
Earnings Releases Expected: Tyson Foods, Inc. (NYSE: TSN), UGI Corporation (NYSE: UGI), Salesforce.com Inc (NYSE: CRM
Economic Releases Expected: Hong Kong unemployment rate, eurozone current account, Spanish current account
Tuesday
Earnings Expected From: Home Depot, Inc. (NYSE: HD), Campbell Soup Company (NYSE: CPB), Valspar Corporation (NYSE: VAL)
Economic Releases Expected: German ZEW economic sentiment, US Redbook, Norwegian GDP, Japanese trade balance, New Zealand PPI
Wednesday
Earnings Expected From: J.C. Penny Company (NYSE: JCP), Green Mountain Coffee Roasters, Inc. (NASDAQ: GMCR)
Economic Releases Expected: German PPI, US CPI, US retail sales, US existing home sales, Chinese manufacturing PMI
Thursday
Earnings Expected From: No notable releases expected
Economic Releases Expected: French manufacturing and services PMI, German manufacturing and services PMI, eurozone manufacturing and services PMI, US PPI, US manufacturing PMI, eurozone consumer confidence
Friday
Economic Releases Expected:   German GDP, German business climate index, Italian retail sales.
Get all the #premarket info by listening in to Benzinga's morning show at 8:00 am EST Monday-Friday!
Posted-In: News Eurozone Commodities Previews Global Econ #s Economics Federal Reserve Best of Benzinga
View Comments and Join the Discussion!