Benzinga's M&A Chatter for Thursday November 14, 2013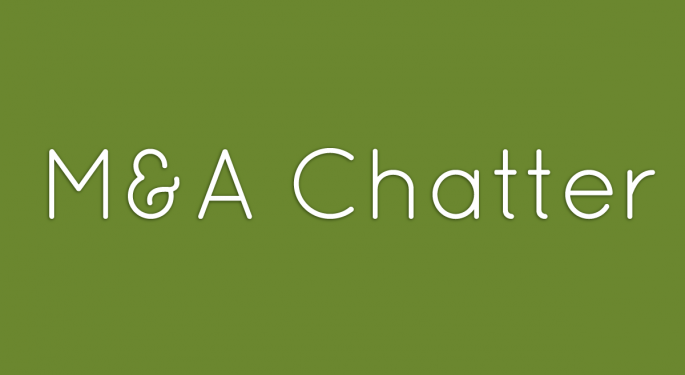 The following are the M&A deals, rumors and chatter circulating on Wall Street for Thursday November 14, 2013:
Under Armour to Acquire MapMyFitness for $150M
The Deal:
Under Armour (NYSE: UA) announced on Thursday the acquisition of fitness technology company MapMyFitness for $150 million. The transaction is expected to close by the end of 2013.
Under Armour closed Thursday at $85.53, a gain of 1%.
Tyco Acquires Westfire
The Deal:
Tyco International (NYSE: TYC) announced today the acquisition of special-applications fire protection services company Westfire. The deal closed on November 8, 2013. Terms were not disclosed.
Tyco International closed Thursday at $37.60, a gain of more than 2%.
TravelCenters to Acquire 31 C-Stores/Gas Stations for $67M
The Deal:
Travel Centers of America (NYSE: TA) announced Thursday that it has agreed to acquire 31 Minit Mart convenience stores with retail gasoline stations for $67 million. The deal is expected to close before the end of 2013.
TravelCenters of America closed Thursday at $10.92, a gain of $0.04.
View Comments and Join the Discussion!