McDonald's Shares Fluctuate During Investor Meeting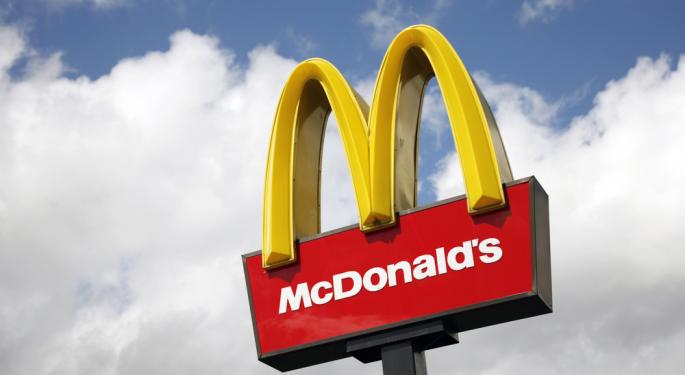 McDonald's (NYSE: MCD) had their investor meeting today with Don Thompson, McDonald's President and CEO, and other members of senior management.
The meeting reiterated the company's strategic plan- the Plan to Win- and global growth priorities.
In McDonald's 8-K Form, Don Thompson commented, "The McDonald's System has an infrastructure built for growth, and we are well-positioned to seize the sizable opportunities that exist in the Informal Eating Out industry. Today we are investing in our people, our restaurants and our technology to capitalize on those long-term opportunities that will make McDonald's even better and bigger in the future. While the near-term environment is challenging, we are confident in our ability to create long-term value for our customers, shareholders and the McDonald's System."
Thompson noted that the company expects commodity pressure to continue into 2014. Further, 2014 G&A costs are forecast at around $200 million. McDonald's said that increasing sales at existing stores is crucial. The company also reaffirmed system wide long term sales growth forecast and commented that the competition has "intensified."
McDonald's reported that beef is their number one selling protein and sees additional opportunities to sell more beef and chicken products. The company is expected to spend $3 billion on new restaurants and sees a global beverage opportunity of $3 billion. McDonald's will extend its focus to sell more coffee, tea, and soft drinks.
The company reported that European and Asian comp sales were down through October. The U.K. was down 5.7 percent YTD, France was down 0.4 percent, and Germany was down 6.2 percent. McDonald's commented that European consumers are choosing to eat at home more. Japan comp sales were down 5.5 percent and China sales were down 4.2 percent.
McDonald's recently created a new digital team and announced that they will increase their digital media marketing spend.
McDonald shares dove into negative territory as the afternoon meeting begun and hit -0.7 percent for the session. Shares closed at $98.11 yesterday and is currently trading at -0.63 percent.
Posted-In: Don ThompsonNews Management Events Best of Benzinga
View Comments and Join the Discussion!