Holiday Buyer's Guide: iPad Air, PlayStation 4, Xbox One and Other Hot Tech Products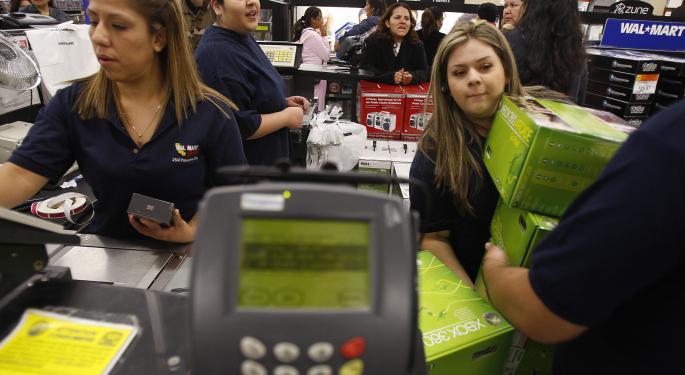 iPhones, Xboxes, PlayStations -- everything you need to be the ultimate gift-giver this December.
While not every hot product has been released yet (Xbox One is still roughly a week away), most are already on store shelves. Some of them, such as Apple's (NASDAQ: AAPL) iPad Air, are already on sale.
Of these products, you know what's good for you. But what does cousin Timmy from Florida want under the tree? Or what would Brian, your youngest uncle, want in his stocking? And what in the world should you buy for Denise, your sister with three teenage boys who love video games?
Oh, wait; that last one is too obvious.
Even so, it can't hurt to have a little help this holiday season. Read on to find the best tech products for everyone:
For Tablet Lovers Who Want The Brightest And Best…Display
Apple's iPad Air is selling for $479 at most retailers. Target (NYSE: TGT) announced that it will give away a $100 gift card to those who purchase one on Black Friday.
If you shop at Target frequently, this more or less brings the price down to $379 -- $20 cheaper than the iPad Mini with Retina Display. At that price, you'd be crazy not to buy one as a gift…for yourself! Alright -- your mom, dad, brother, sister, aunt, uncle and cousins would probably enjoy one as well.
Related:iPad Air: Hands-On With The Best iPad Yet
Seriously though, for those who want a full-size tablet, there is no better option than the iPad Air.
For Tablet Lovers Who Want Something Smaller Or Cheaper
The iPad Air is nice, but it won't fit into most stockings. However, Google's (NASDAQ: GOOG) Nexus 7 makes a very nice stocking stuffer. At $229, the tablet is one of the more competitively priced devices on the market.
Related: REVIEW: Nexus 7 (2013 Edition) And Chromecast
Amazon's (NASDAQ: AMZN) Kindle Fire HDX is fairly comparable (and comes with the same $229 MSRP). It also features some interesting customer service options for those who need help using a tablet.
Got A Gamer In The Family?
There is nothing more awful than having to choose one of two new game consoles. For gamers, it would be like choosing between peanut butter and jelly! Sure, bread is tasty with just one of those condiments smeared across the surface -- but it tastes better with both. Game systems are no different.
That being said, few people can (or will) get both this Christmas. So if you must decide between an Xbox One and a PlayStation 4, start by looking at the price.
Sony's (NYSE: SNE) new console is $399, while Microsoft's (NASDAQ: MSFT) retails for $499.
If price isn't an issue, consider the initial launch lineup: almost every third-party game was developed for both consoles.
Thus, the only games that matter (right now) are those that are exclusive to one platform.
Xbox One's biggest exclusive game is Dead Rising 3, while Killzone: Shadow Fall is the biggest for PlayStation 4. Killzone pre-orders are above 300,000 units in the United States, while Dead Rising 3 is at around 115,000 units.
These figures only indicate the number of people who plan to purchase each game, however, which may also be a reflection of each console's popularity. Pre-orders should not be taken as a sign for which console to purchase.
If you're not sure which one to buy, take a look at your friend or relative's game collection. If older versions of Killzone and other Sony-made games are in his or her collection, then PlayStation 4 is a safe bet.
But if his or her game collection consists of Microsoft staples like Halo (or the previous Dead Rising iterations), you might want to go with an Xbox One.
For Music Lovers Everywhere
Walk into any Best Buy (NYSE: BBY) and you will see a ton of portable speakers. Most of them are expensive --  and very few are worth the money.
The Mini Jambox from Jawbone, for example, is a decent but underwhelming speaker for smartphones.
The Beats Pill looks cool, but its sound leaves a lot to be desired.
After listening to a cornucopia of speakers, only one stood out: the Bose SoundLink Mini.
The compact size and Bluetooth connectivity are nice (and common), but the most impressive feature is what matters most: the sound.
Rich, enveloping bass will allow music lovers to rock on, without wishing they were using a larger, more expensive sound system.
At $199, the SoundLink Mini is roughly the same price as its competitors.
Disclosure: At the time of this writing, Louis Bedigian had no position in the equities mentioned in this report.
Louis Bedigian is the Senior Tech Analyst and Features Writer of Benzinga. You can reach him at louis(at)benzingapro(dot)com. Follow him @LouisBedigianBZ
Posted-In: Apple Beats Pill Bose SoundLink MiniNews Retail Sales Economics Tech General Best of Benzinga
View Comments and Join the Discussion!