Judge Keith, Tigers' Leyland honored at 'Detroit Legacies' Event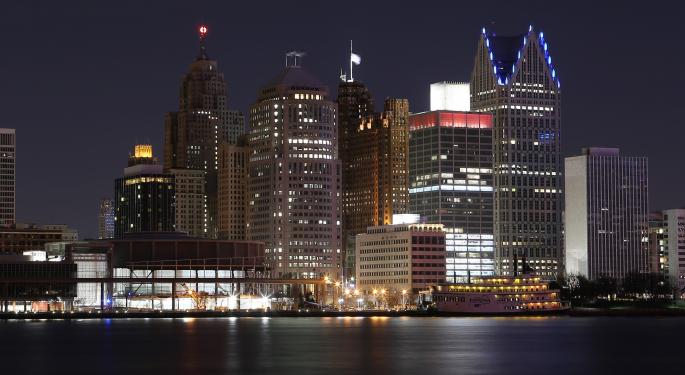 Mitch Albom and U.S. 6th Circuit Court Judge Damon J. Keith took the stage Monday evening, welcoming the more than 3,000 attendees to Detroit's Fox Theater.
"Detroit Legacies: In Black and White" was to be a night of communal feelings between the city's famous faces and the everyday people. Those in attendance heard how these people appreciate what Detroit, and breaking racial barriers, has done for them.
"Eighty percent black...we elect a white mayor. Doesn't that say something about our Detroit?" Keith asked, speaking at a backstage reception prior to the event. "This vision starts here, together for a great community."
Related: Dan Gilbert's View on Detroit's Revitalization
Various groups of local newscasters, actors, pastors and politicians -- including newly-elected mayor Mike Duggan -- read passages of Albom's just-released novel, The First Phone Call From Heaven and Keith's upcoming biography, Crusader For Justice. Video clips of Keith's life were shown on video screens. Nearing 92 years of age, Keith looked and sounded 15 years younger as he interacted with those on stage.
Detroit Lions quarterback Matthew Stafford spoke about the culture shock of coming to the area. He grew up in Texas, attended college in Georgia and has been making a name for himself further in the Motor City. Keith asked Stafford if he sees color when he's throwing to teammate, NFL All-Pro Calvin Johnson.
"No, I just know he's open," Stafford joked.
Recording artist Kem and Rock & Roll Hall of Fame members The Four Tops sang a couple of songs over the course of the three-hour event. Kem, Duke Fakir and Detroit Tiger legend Willie Horton then sat down, discussing the hardships they endured growing up in the area. In the midst of the 1967 riots, Horton left Tiger Stadium, still in uniform, hopped onto a car to try and quell the violence and tension that had been raging.
Despite the struggle to get back to being one of the great American metropolitan areas, Keith fights on. "We are moving forward and no one can stop us," he said.
Other notable guests included former Michigan football icons Lloyd Carr and Mike Hart, along with Detroit Red Wings goalie Jimmy Howard. Saturday Night Live alum Tim Meadows returned also returned home for the night.
Related: Buy Michigan Stocks, Not Detroit Bonds
But the night belonged to retired Tigers manager Jim Leyland. He received a plaque from Don Kelly commemorating "Jim Leyland Day" by Mayor Dave Bing. Kelly and Leyland have faced harsh vitriol from Tiger fans over the years, with Leyland even mentioning that he once told Kelly to hide at the back of the plane to hide from team president Dave Dombrowski. He sang a few Motown bars to the delight of the audience, while continuing to thank those in the city for his eight years of service as manager. Leyland broke into baseball with Detroit in 1963 and would remain there for the next 20 years. His message about building a winning ball club can reverberate around the suburban/city community of Detroit.
"Disagreements are okay -- they make you better sometimes," he said.
During the backstage reception, Leyland could barely go 10 seconds without being asked for a picture or to shake a person's hand. Annoying perhaps to some, he told one man it was an honor to be involved at such an event. His wife happily took pictures with people's iPhones (NASDAQ: AAPL), as he tried to get a few sips of his Bud Light.
Leyland looked relaxed, sporting a fresh goatee. But he was able to sneak out for a couple of Marlboros.
View Comments and Join the Discussion!
Posted-In: Damon Keith Detroit Lions Detroit Tigers Downtown Detroit iPhone Jim LeylandNews General Best of Benzinga