Report: Google Glass Will Save Businesses $1 Billion Annually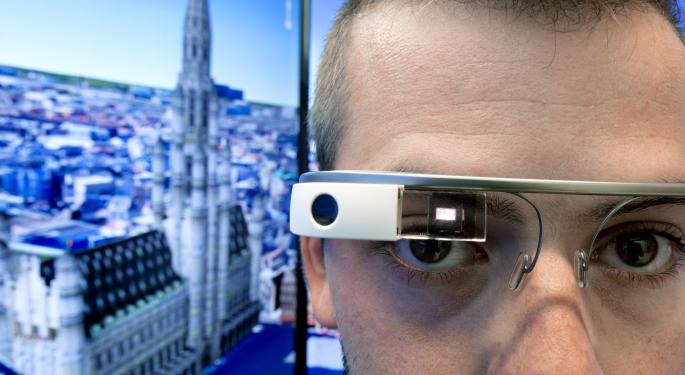 A new report from market research firm, Gartner, suggested the use of Google (NASDAQ: GOOG) Glass might save businesses as much as $1 Billion annually by 2017.
So far, most of the attention on Google's new smart eyewear has been on the consumer market. Gartner said that overlooks the impact wearable computing would have on enterprise in a variety of areas.
One of the most important advantages afforded by Glass is something called "augmented reality" or AR. Augmented reality makes use of the ability of Glass to project information in front of the wearer. AR would allow a repair technician, for example, to work on a piece of equipment with the repair manual or blueprints available in hands-free mode.
Other potential business uses include access to the Internet, recording video for insurance purposes, and conferencing. In short, with Glass it would be possible for those who work outside the office to carry all the information they need with them to the job site.
According to Angelea McIntyre, research director at Gartner, "The greatest savings in field service will come from diagnosing and fixing problems more quickly and without needing to bring additional experts to remote sites."
Currently less than one percent of companies use Glass. Within five years, Gartner said up to 10 percent of enterprise will be using the device, especially companies with field service workers. To that end, IT organizations in many companies are already being asked to begin developing policies about the use of smart glasses, including BYOD (bring your own device) for workers who may see the advantage of bringing personal equipment to the job.
Meanwhile, BloombergBusinessweek reported on other uses of smart glasses, such as in medicine. For example, Dr. Christopher Kaeding performed knee-ligament reconstruction in August and broadcast the procedure to Ohio State University medical students using a Google Glass device he borrowed from a colleague.
Not only were the students able to see the procedure and ask questions in real time, but another doctor in a remote location was able to see the surgery and offer consultation to Dr. Kaeding as needed.
The main hang-up to enterprise adoption so far is the availability of useful software. Google spokesman Chris Dale said the company is working with software developers like Evernote and others to develop apps for a variety of uses.
Related: Stand Alone Google Glass App Store Will Arrive in 2014
Some Glass features such as navigation, speech-to-text, and video conferencing are expected to attract certain types of business users even in the early stages of roll out. Roger Kay, president of Endpoint Technologies Associates said companies involved in transportation, health care, and manufacturing may show interest, even if the devices cost as much as $600 to $800 initially.
Kay said he believed Google would sell three million Glasses worldwide in its first year and that two million of those would go to enterprise and government agencies.
At the time of this writing, Jim Probasco had no position in any mentioned securities.
Posted-In: Angelea McIntyre AR Augmented Reality BYODNews Events Tech Media Best of Benzinga
View Comments and Join the Discussion!