Market Wrap For November 8: Markets Erase Thursday's Losses; Dow Companies Dominate Headlines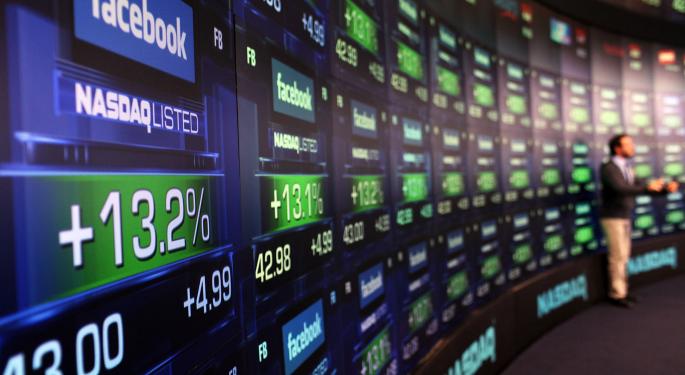 U.S markets rebounded from Thursday's trading sessions, with gains across all major indices. The Dow climbed to yet a new high as data released premarket indicated the U.S economy is stronger than many believed.
The Dow Jones gained 1.08 percent to close at 15,761.
The S&P 500 gained 1.35 percent to close at 1,770.
The Nasdaq gained 1.60 percent to close at 3,919.
Gold declined 1.61 percent to $1,287.40.
Light Crude oil gained 0.18 percent to $94.37.
Macro/Economic News Of Note
The US Labor Department announced that Nonfarm payrolls increased, as employers added 204,000 jobs in October versus an estimated 120,000.
The unemployment rate came in at 7.3 percent, in line with estimates, compared to a previous reading of 7.2 percent.
U.S personal income increased in September by 0.5 percent, above estimates of 0.3 percent.
The U.S labor force fell to 62.8 percent, down from its previous 63.2 percent, the worst showing since 1978.
Finally, consumer sentiment hits its lowest level since 2011. The preliminary November reading of the University of Michigan/Thomson Reuters index came in at 72, down from a final October reading of 73.2. The sentiment measures consumer spending and is closely followed by retail investors, especially prior to the all important Holiday shopping season.
We have seen comments from the Fed's Lockhart. The president of the Atlanta Fed bank stated, "The context of policy making... is murkier than I would like." Lockhart's comments might suggest the Fed is in no rush to reduce the pace of its asset purchase program. The next Fed policy meeting is in December.
We have also seen comments from IMF's Lagarde, stating that the global economy is recovering, but struck a cautious tone, "Recovery is under way but unfortunately at too slow a rhythm to create the jobs needed around the world."
Related: How to Trade the Range in Applied Technologies
Equities Specific News Of Note
Today was a busy day for several Dow components. Johnson & Johnson (NYSE: JNJ) is one step closer to selling its diagnostic unit. Reuters reported that Danaher (NYSE: DHR) has teamed up with Blackstone (NYSE: BX) with a proposed $4 billion bid. Shares of Johnson & Johnson gained 1.47 percent to close at $94.05, while shares of Danaher gained 3.89 percent to close at $74.60 before making new highs of $74.64 today.
Bloomberg reported that Stephen Elop, a potential candidate for the Microsoft's (NASDAQ: MSFT) next CEO, already has a game plan. Elop would consider selling the company's Bing and Xbox divisions. Shares gained 0.75 percent on the day to close at $37.78.
Shares of Disney (NYSE: DIS) closed 2.13 percent higher as the company announced the much anticipated Star Wars: Episode VII will hit theaters on December 18, 2015. The company also reported a strong fourth quarter and full year earnings. Shares closed the day at $68.58, up 2.13 percent.
McDonald's (NYSE: MCD) announced its global comparable store sales rose 0.5 percent in October, above the 0.2 percent consensus. Shares slipped 0.20 percent to close at $97.01.
Shares of Priceline.com (NASDAQ: PCLN) finished the day trading higher by 4.86 percent following a strong third quarter result yesterday and announcing a CEO change.
An analyst report by Credit Suisse recommended buying refiners as crude prices continue to drop. The report singled out Tesoro (NYSE: TSO) and Calumet Specialty Products. (NASDAQ: CLMT) Shares traded higher by 3.73 percent and 1.61 percent, respectively.
After three decades at Barrick Gold (NYSE: ABX), the 86 year old Peter Munk has indicated that he won't stand for re-election to the board at the company he founded. Barrick Gold is the largest gold mining company in the world. Shares are down approximately 50 percent year over year, severely underperforming physical gold prices which are down approximately 25 percent in the same time period. Shares closed the day up 0.22 percent compared to a 1.49 percent decline in the SPDR Gold Shares ETF (NYSE: GLD).
Investors are believing Groupon's (NASDAQ: GRPN) management when it claimed that its third quarter revenue miss was due to the company's transition from a "push" business model to a "pull" model. The company also blamed Google's (NASDAQ: GOOG) Gmail inbox changes which has sent promotional e-mails to a separate folder, rather than the user's main inbox. Shares closed the day higher by 6.43 percent at $10.11.
Green Mountain Coffee Roasters (NASDAQ: GMCR) opened its first Keurig Store in Massachusetts. Shares received a slight boost ending the day up 2.63 percent at $59.71.
3D Systems (NYSE: DDD) is set to launch a $399 3D scanner which can scan objects as large as 10' x 10'. The scanner is designed to work with the company's Cube printer line. The device will be sold at Staples (NASDAQ: SPLS) as early as November 18. Shares of 3D Systems closed the day up 3.74 percent to $70.40.
Aegerion Pharmaceutical (NASDAQ: AEGR) received a warning letter from the FDA with regards to comments its CEO Marc Beer made on CNBC. Shares traded immediately lower, but have recovered some of the losses to close the day 0.41 percent lower at $70.43.
Related: Job Growth, Minimum Wage are Hot Buttons in Washington, DC Again
Today's Winners Of Note
Shares of The Gap (NYSE: GPS) rose by 9.75 percent after beating sales estimates and raising guidance.
Shares of Arna Pharmaceuticals (NASDAQ: ARNA) rose by 17.4 percent to close at $4.79. Yesterday, the company announced an expanded agreement for Belviq. Shares of Arna have been trading at 52 week lows prior to the announcement and have steadily declined since July.
Riverbed (NASDAQ: RVBD) disclosed Elliott Associates has taken a 10.4 percent stake in the company. Elliott Associates is known for its activism in tech companies. Shares of Riverbed gained 16.15 percent to close at $17.55.
Ubiquiti (NASDAQ: UBNT) shares gained 10.95 percent following its strong guidance during its first quarter results announcement. The company is expecting second quarter revenue in the $130 million to $136 million range above consensus of $123.8 million.
Shares of Gogo Inc (NASDAQ: GOGO) closed the day at $18.75 a share, up 6.96 percent. The company's products was featured positively by CNBC.
Nektar Therapeutics (NASDAQ: NKTR) gained 20.98 percent to close at $10.84 after the company reported third quarter results well ahead of consensus. The company reported a 231 percent increase in year over year revenue to $60.9 million. The company's losses were much lower than consensus coming in at a loss of $0.14 versus an expected $0.25 a share.
Today's Decliners of Note
After its first day of trading, Twitter (NYSE: TWTR) was the recipient of two downgrades. Shares have been initiated with a neutral rating at Wedbush, and a sell rating at Hudson Square. Shares of the popular microblogging site ended the day lower by 7.26 percent closing at $41.64.
Shares of Netsol Technologies (NASDAQ: NTWK) closed the day down 30.08 percent. The consensus on its quarterly EPS was $0.15, but the company didn't even come close, delivering a loss of $0.12 a share.
Posted-In: Market WrapNews After-Hours Center Best of Benzinga
View Comments and Join the Discussion!