Apple Supplier Peregrine Semiconductor Is In More iPhones, iPads Than Investors Realize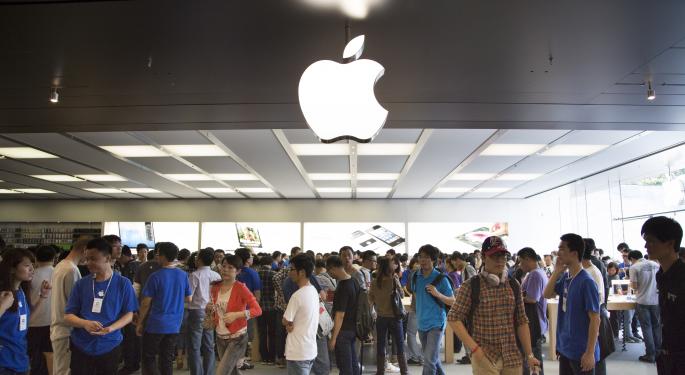 Peregrine Semiconductor (NASDAQ: PSMI), one of the lesser-known suppliers for Apple's (NASDAQ: AAPL) iDevices, is fairly diverse.
The company supplies antenna switches to companies like Murata (OTC: MRAAY), which builds RF modules that are sold to virtually every smartphone manufacturer in the world.
Thus, Peregrine components can be found in everything from the Galaxy S4 and Galaxy Note 3 to the iPhone 5S and iPad Air. But because the components are so small (and are well hidden inside of Murata's modules), they may not be uncovered by a generic product teardown.
"A lot of times when people first do teardowns, they don't see Peregrine parts," Jim Cable, CEO of Peregrine Semiconductor, told Benzinga. "But you have to do a little more detailed teardown and you have to look inside the Murata module and then you'll see our die."
Cable said that while he has not tested Apple's latest tablet, he is tempted to buy one.
"I used to have this strategy of, every time one of our products ended up in a high-profile device, I liked to buy it," said Cable. "But it's gotten so that's crazy. I can't buy every generation of Samsung (OTC: SSNLF) and every generation of LG and every generation of Nokia (NYSE: NOK) and now every generation of Apple. I still have a hankering to get the iPad Air. I've been told that it works very, very well."
Related: Panasonic's New 4K Tablet Is 12X More Expensive Than Apple's iPad Air
J. Goldberg, Peregrine's Senior Director of Corporate Development, was already persuaded to purchase and iPad Air and said that there is a noticeable difference in LTE performance versus the iPad 3.
While the company does not sell directly to smartphone manufacturers, Goldberg said that Peregrine's components are an important part of cellular devices.
"[Original equipment manufacturers] will work with the module guy, but they're very careful about telling the module supplier who they want," Goldberg told Benzinga. "They want to make sure they get a good Peregrine part, because it is such a key determinate of the success of that radio."
The Apple Supplier Treatment
In the past, suppliers liked being associated with Apple.
Today that association could be dangerous to a company's stock price -- especially if investors don't know the whole story.
"Our stock tends to trade with a very high correlation to Apple and some of the Apple component vendors," said Goldberg. "So a year or two ago, when we were first getting ready to go public, being a component in the iPhone was a good thing and all those companies had premiums attached to their multiples.
"Now, for whatever reason the Street is down on Apple stocks. Even though we're much more diversified -- Apple is a much smaller share of our revenue -- we're still sort of seen as an Apple supplier and we have the discount that all the other Apple suppliers get."
Related: Will Apple Delay iPad Mini With Retina Display Until 2014?
Peregrine's sequential revenue is expected to go down in the December quarter, but Goldberg said that has more to do with industry transitions than anything else.
"It used to be that the big quarter for handset components and handset vendors was Q4," said Goldberg. "Everyone was building everything in Q4, and there were these big spikes in Q4. Now it has sort of shifted. Samsung and Apple have become such a large share of handsets, and their primary activity is Q2 and Q3. Samsung launches in April/May, Apple has been launching in September/October, so you've seen that seasonal pattern shift."
Goldberg said that this is true for all semiconductor companies. He said that almost all of Peregrine's peers had a strong third quarter but noted that their Q4 earnings are looking a little bit lighter.
"That's gonna be the dominate trend in the quarter," he said.
Disclosure: At the time of this writing, Louis Bedigian had no position in the equities mentioned in this report.
Louis Bedigian is the Senior Tech Analyst and Features Writer of Benzinga. You can reach him at louis(at)benzingapro(dot)com. Follow him @LouisBedigianBZ
Posted-In: Apple Galaxy S4 iPad iPad AirNews Management Tech Interview Best of Benzinga
View Comments and Join the Discussion!