McDonald's October Comparable Sales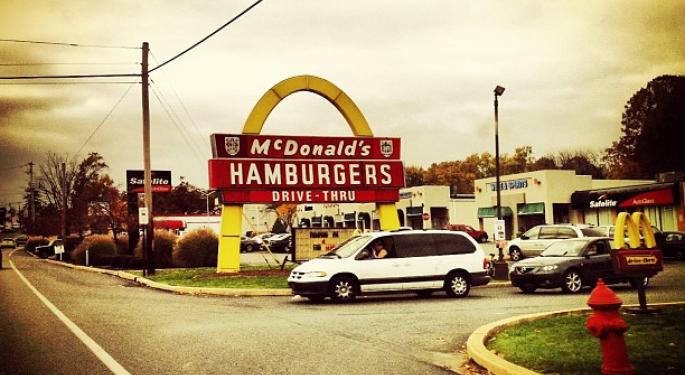 McDonalds's (NYSE: MCD) reported October comparable sales this morning.
McDonald's global comparable sales increased 0.5 percent last month versus the estimates 0.2 percent. U.S. missed estimates of 0.4 percent at 0.2 percent, Europe was up 0.8 percent and APMEA (Asia/ Pacific, Middle East and Africa) was down 2.8 percent.
U.S sales were supported by the new Premium Southwest McWrap and the limited offers of Mighty Wings and Pumpkin Spice Latte. Compared with last year, sales slightly fell due to the 2012 Monopoly promotion. McDonalds will focus on their everyday value options and balancing promotions.
The U.K., France, and Russia led Europe's 0.8 percent increase. This positive performance is a result of McDonald's approach of value platforms and seasonal food offers. Japan dragged APMEA results down in October. The Press Release noted that McDonald's will work on performance improvement and the customer experience with value offerings, breakfast growth and drive-thru/ kiosks extensions.
President and CEO Don Thompson commented, "Around the world, we are focused on providing the menu quality and choice, customer service and affordability that are the hallmarks of the McDonald's experience. We remain confident in the fundamental strength of the McDonald's System and our ability to drive initiatives that will deliver the greatest benefit for our customers."
View Comments and Join the Discussion!