Dollar Advances in Wake of Strong Payrolls Data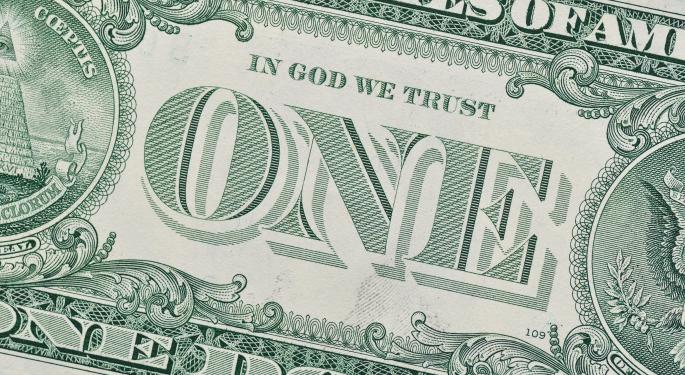 The US Employment Report
The Bureau of Labor Statistics reported on Friday that employers added 204,000 workers to its payrolls in October, beating expectations of 125K by a wide margin. The prior months payrolls figure was revised upwards to 163K.
While the number of new jobs created spiked higher, the civilian labor force fell by 720,000 and the labor force participation rate fell to its lowest since March 1978.
The US unemployment rate rose to 7.3 percent in October, in line with analyst expectations. and rising from 7.2 percent in the prior month.
The U-6 Unemployment Rate, a broader measure that includes the underemployed and those who have given up looking for work, also moved higher, from 13.6 percent to 13.8 percent.
The rise in the unemployment rate was affected in part by the impact of temporary federal furloughs during the US government shutdown.
Market Reaction
US stock index futures sold off in the initial reaction to the news, but recovered by the New York open. The US dollar pushed higher and gold sold off sharply.
Federal Reserve Stance
The Federal Reserve had been expected to taper its $85 billion in monthly bond purchases in September. However, Chairman Ben Bernanke refrained from reducing quantitative easing, amid concerns over the health of the US economy.
While Federal Reserve economists recently suggested that the unemployment rate should fall to 6 percent or 5.5 percent before taking action, the positive payrolls number has ushered in speculation over tapering in December, now being referred to as 'Dectaper'.
US Dollar Index Daily Chart
The greenback traded sharply higher on yesterday's unexpectated rate cut from the ECB and has continued to push upward in the wake of the US jobs report. Resistance lies above at the 200 day moving average at 81.86 and the nearby 50% retracement level of 81.99.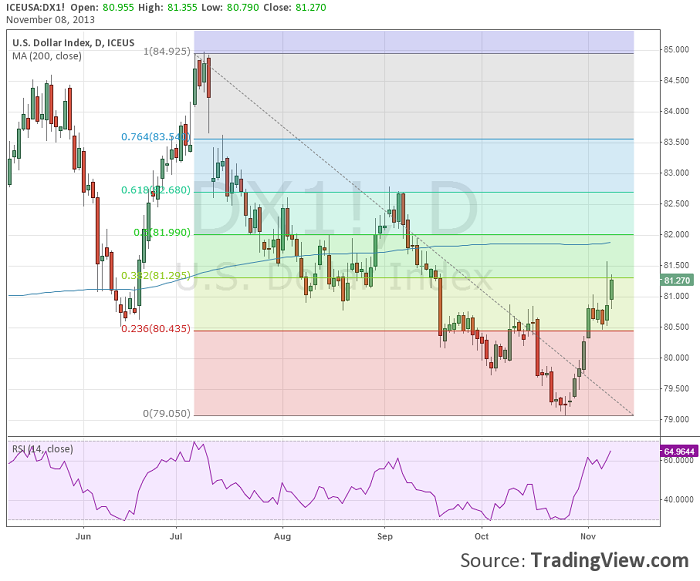 Posted-In: dollarForex Economics Federal Reserve Markets Best of Benzinga
View Comments and Join the Discussion!