Are Google's Barges the World's Largest Technology Kiosks?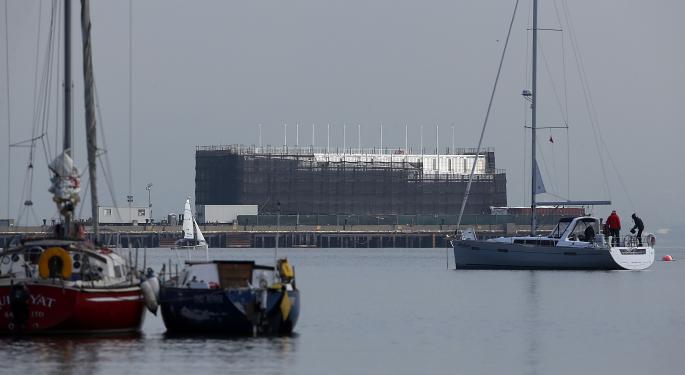 After launching balloons 12 miles above the Earth's atmosphere, many thought that Google (NASDAQ: GOOG) could -- or would -- do anything.
That mindset also led to mass speculation that the company's mysterious barges, currently located off San Francisco and Portland, Maine, would serve as floating data centers.
That theory turned out to be false after Google came clean this week about the barges' real purpose.
According to TechCrunch, Google admitted the barges are not floating data centers (or wild party boats).
In a statement to TechCrunch, the search engine giant said that, while it's still in its "early days and things may change, we're exploring using the barge as an interactive space where people can learn about new technology."
As a floating environment that could teach others about new technology, Google could take its barges all over the place. This could make it the perfect way to demo Google Glass, the long-awaited AR (augmented reality) project that Google has been hyping for more than a year.
Global Initiative
By deploying multiple barges throughout the world, Google could create some interesting promotions for Glass and other projects.
Related: Google Is Now Tracking and Reporting Your Buying Habits
Since Glass can record everything the user sees, Google could allow customers to come aboard, test the goggles and upload the video. In a matter of days, the company would have generated thousands of first-person video experiences with Glass. This could create a whole new dimension of publicity before the product is officially released.
Google could also use its barges to promote future Android phones and tablets, as well as new Chromebooks.
It's Cool To Be Exclusive
Some may wonder why Google would spend millions on barges to promote new technology when it could simply rely on existing channels, such as retailers like Best Buy (NYSE: BBY).
While that is a fine strategy (and is already employed by numerous Google products), there is something to be said for an event or destination that feels exclusive.
If Google can spin the barge hype properly, it can show consumers that if they aren't on the barge, they are missing out. They could make it the kind of thing where people happily tweet and post status updates about their Google Barge experiences, because they are just too cool to stay silent about.
That is the kind of hype Google needs to make this work. There may have been a cheaper way to pull this off, but even so -- what could be more exclusive than a technology-packed barge that is here today and sails away tomorrow?
Disclosure: At the time of this writing, Louis Bedigian had no position in the equities mentioned in this report.
Louis Bedigian is the Senior Tech Analyst and Features Writer of Benzinga. You can reach him at louis(at)benzingapro(dot)com. Follow him @LouisBedigianBZ
Posted-In: Android best buy Chromebooks Google Google BargeNews Rumors Tech Best of Benzinga
View Comments and Join the Discussion!