Abbreviated Holiday Season Will Cost Stores $1.5 Billion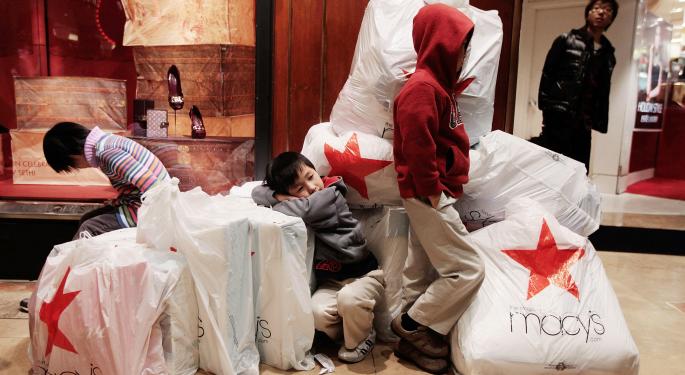 If you are wondering why more retailers are opening on Thanksgiving Day this year, the calendar might have a lot to do with it. Thanksgiving is on November 28, the latest it has been since 2002.
That means six fewer days between Thanksgiving and Christmas and that translates to about $1.5 billion in lost revenue according to a new survey by Adobe Systems (NASDAQ: ADBE) Adobe Digital Index.
Tamara Gaffney, principal analyst at Adobe Digital Index told The Washington Post, "Promotional activity will be bigger, earlier, and more noisy."
So far that seems to be the case. Retailers like Macy's (NYSE: M), J.C. Penney (NYSE: JCP), and Sears (NASDAQ: SHLD) plan to open at 8 p.m. on Thanksgiving as opposed to the more traditional holiday opening of early morning on Black Friday.
Kmart in a "one-up" move announced it would open at 6 a.m. on Thanksgiving Day and remain open for 41 straight hours until late Friday.
Related: Will Kmart's 41-Hour Thanksgiving Shop-a-thon Be Enough?
Meanwhile, Wal-Mart (NYSE: WMT) and Target (NYSE: TGT) have already started offering discounts normally available only on Black Friday.
It doesn't help that recent history includes a less-than-inspiring jobs report, a 16-day government shutdown, and disappointing estimates for national economic growth.
Still, the National Retail Federation said it expects holiday sales to increase almost four percent with online revenue expected to grow by 15 percent this year. The organization said that even though consumers are frustrated, spending has not yet shown a decline.
From a long-term perspective, however, Adobe's Gaffney suggested that the Black Friday tradition hurts retailers. Gaffney told BloombergBusinessweek, "Our official start date here called Black Friday, which will eventually be Thanksgiving, is preventing online sales from occurring."
As proof, Adobe's research found that in places like the U.K., the Netherlands, and Canada, which do not celebrate Thanksgiving (or follow the tradition of Black Friday), shoppers spend more than Americans do during the holiday season.
Some retailers are catching on. Karen Hoguet, chief financial officer at Macy's, told investors the company is focused on persuading people to spend throughout November according to BloombergBusinessweek.
Hoguet added, "There's some people who are saying the six fewer days is negative, but I keep saying November, December hasn't changed. You still have the same number of people to buy gifts for."
At the time of this writing, Jim Probasco had no position in any mentioned securities.
View Comments and Join the Discussion!
Posted-In: Adobe Digital Index adobe systems AmericansNews Topics Events Media General Best of Benzinga