Starbucks Looking to Recruit 10,000 Veterans And Military Spouses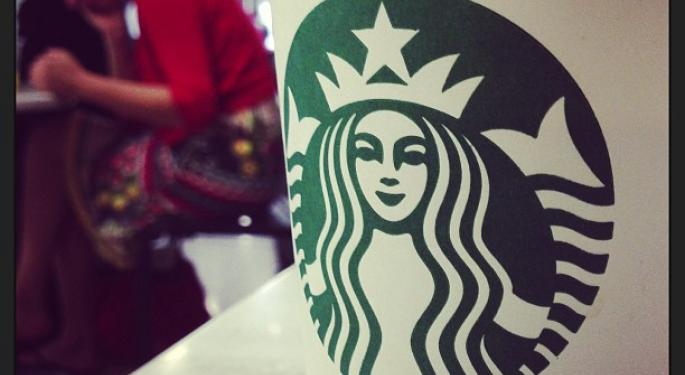 Starbrucks (NASDAQ: SBUX) has joined a growing list of companies that are committed towards helping veterans transition back to society, according to Reuters. The company has committed to hiring 10,000 veterans and spouses of active military over the next five years.
The available jobs won't be limited to minimum wage baristas. According to the report, Starbucks is seeking veterans with experience in leadership, foreign language skills and expertise in global supply chains. The company boasts having three billion customers in 62 countries worldwide.
Forbes reported in 2012 a study from the Center for a New American Security which argues that veterans make valuable employees. The study concludes that veterans can "adapt to dynamic workplace situations and boast leadership and teamwork skills that outpace those of their civilian counterparts."
The ambitious plan for Starbucks to hire veterans can be traced to Rob Porcarelli, a staff attorney with the coffeehouse chain. Porcarelli was a prosecutor in the Navy during the 1990s and had difficulties entering the work force during his civilian transition. It also boasts former Defense Secretary Robert Gates as a member of the company's board.
Starbucks has seen some unfortunate negative press, with rumors circulating that the company is "anti military." A U.S Marine in 2004 claimed that the company does not "support the [Iraq] war and anyone in it." This claim has been retracted by the Marine for not being accurate and refuted by snopes.com.
Starbucks is joining the ranks of other major companies in their commitment to support the troops. According to The Wall Street Journal, a coalition of 76 companies including J.P. Morgan (NYSE: JPM) and Lockheed Martin (NYSE: LMT) has set a goal of hiring 100,000 veterans by 2020. Wal-Mart (NYSE: WMT) has also committed to hiring 100,000 veterans over the next five years.
Posted-In: Forbes snopes.comNews Economics General Best of Benzinga
View Comments and Join the Discussion!