'Legal' Marijuana Industry Expects New Highs In Growth, Sales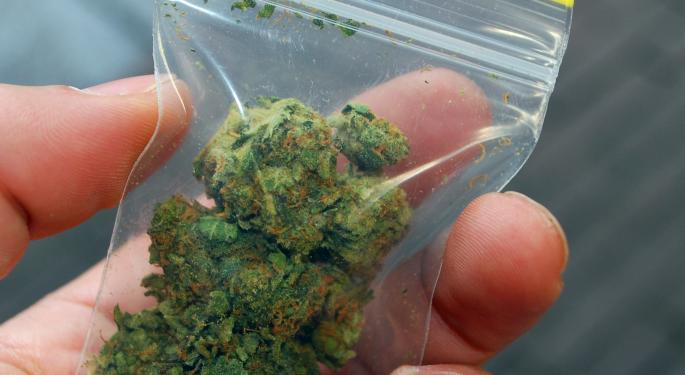 Despite still being a crime under federal law, 20 states and the District of Columbia have legalized the sale of medical marijuana – and starting in January two states, Washington and Colorado, will legalize the recreational use of cannibis for adults.
A growing cultural and political acceptance of marijuana has created what some call a "Green Rush" of investors, looking to cash in on all aspects of cannabis production in the United States.
And now, according to the ArcView Group, a San Francisco-based financial analysis firm, the national legal marijuana maket in the U.S. – which the study defines as states that have active and open sales of cannibis to people who, under local laws, are allowed to possess it – is valued at $1.44 billion. And that national market is expected to grow 64 percent from its current levels to $2.34 billion by next year.
The ArcView report predicts 14 states will adopt so-called "Adult Use" regulations within the next five years. As you might expect, California is currently the largest market for legal marijuana, at $980 million. The study also points to "new promising markets opening around the country" – with Massachusetts, Illinois, Vermont and Connecticut expected to collectively reach $61 million in sales next year.
And much like Levi Strauss made his fortune selling blue jeans, picks, shovels and other supplies to prospectors during the Gold Rush, ancillary companies – businesses that don't deal directly in marijuana or its related byproducts but instead work with the producers – are also a good focus for investment.
Growlife, Inc. (OTC: PHOT), for example, makes and markets what its website described as "progressive horticulture and lifestyle products," – including hydroponic grow equipment and agricultural-grade lighting. It reported sales of over $760,000 in the first quarter of 2013, up 725 percent from the same time period a year earlier.
The company also opened its seventh brick-and-mortar retail location last month.
Expanding its retail operations, both online and in conventional stories, has allowed Growlife "to be one of the most diversified and active participants in the existing and emerging legal cannabis industry," said CEO Sterling Scott in a press statement.
However, as the ArcView study points out, "legal marijuana" is still a relative term. Many states that have legalized medical marijuana are still grappling with regulatory issues,
And the study notes that while more states are expected to legalize medical marijuana in the near future, the industry faces a wide variety of risks – including a lack of access to banking services (although that may be changing), opposition from local communities and law-makers, as well as competition with the illicit marijuana market – and its estimated $18 billion to $30 billion in sales.
View Comments and Join the Discussion!
Posted-In: agriculture crimeNews Entrepreneurship Commodities Legal Markets General Best of Benzinga