Will Kmart's 41-Hour Thanksgiving Shop-a-thon Be Enough?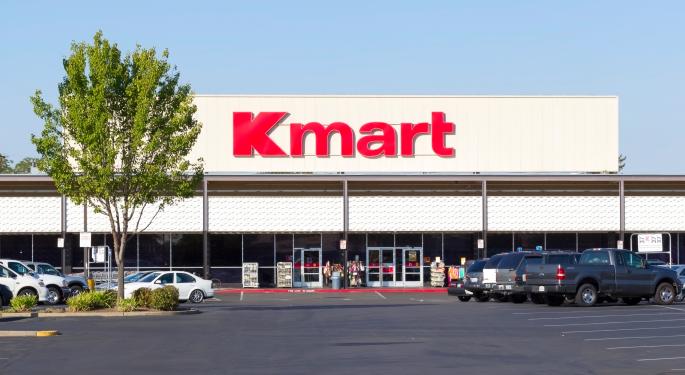 Sears Holdings (NASDAQ: SHLD) owned, Kmart will open at 6 a.m. Thanksgiving Day and stay open for 41 consecutive hours until 11 p.m. on Black Friday.
To date, this decision represents the earliest Thanksgiving Day opening of any major retailer yet.
Black Friday as the traditional beginning of the important holiday shopping season has been turned on its side in recent years with more and more stores opening on Thanksgiving, most in the late afternoon or evening, to give employees and customers a chance to spend time with family and friends before heading out to search for bargains.
Opening at 6 a.m. on Thanksgiving Day is not new for Kmart. What's new is the fact the stores won't close and reopen on Black Friday. Now they will stay open for the duration.
Sears stores, unlike sister chain Kmart; will not open until 8 p.m. on Thanksgiving. This puts the retailer more in line with competitors like Macy's (NYSE: M), J.C. Penney (NYSE: JCP), and Kohl's (NYSE: KSS), all of whom will also open at 8 p.m.
Related: Is Sears on Life Support?
Wal-Mart(NYSE: WMT), in a bid to beat the holiday rush entirely has already posted many of its Black Friday deals online according to The Washington Post. The tactic, which features seven deals, including a 42-inch JVC LED TV for $299 might help mitigate some Wal-Mart customer practices such as finding and hiding bargain-priced items in the store until doors open on Black Friday.
Whether Kmart's 41-hour marathon will provide revenue relief to the beleaguered retailer remains to be seen. All brands have plenty to be nervous about this holiday shopping season. The lead-up to Black Friday has featured several months of less-than-inspiring merchandise sales, a government shutdown, and a variety of polls like the one by the National Foundation for Credit Counseling that found 53 percent of shoppers were already planning to spend less on holiday shopping this year than they did in 2012.
Related: J.C. Penney Given a $1 Price Target
Brian Sozzi, chief executive of Belus Capital Advisors, didn't need a survey to rip into Kmart. On his website Monday, in a post titled The Tragic Death of Kmart is Happening Right In Front of our Eyes, Sozzi said Kmart stores were "dreadful to visit, borderline unsafe, and sending the division's financials down a path of no return."
As proof, Sozzi included a series of charts pointing out the chain's decline along with several telling photos showing misspelled signage, unstocked shelves, and a variety of other retailing sins.
The Los Angeles Times said Monday that Kmart was trying to make itself more accessible by adding "options to purchase items digitally and then have them picked up by friends or family."
With display signs that implore consumers to "Please By These Products," misplaced items such as a lone washing machine in the electronics department, and bottles of "Sears Craftsman BBQ Sauce" proudly displayed on a random popup, getting friends and family to pick up your order might prove more difficult than you think.
At the time of this writing, Jim Probasco had no position in any mentioned securities.
Posted-In: Belus Capital Advisors Black Friday Brian Sozzi government shutdown J.C. PenneyNews Events Media Best of Benzinga
View Comments and Join the Discussion!