Microsoft Advised to Spin Off Xbox by Co-founder, Paul Allen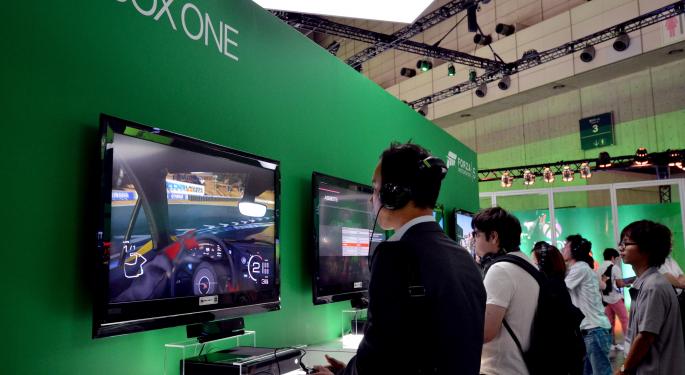 Activist investor, Carl Icahn, isn't the only one giving unsolicited advice to a large corporation.
Microsoft (NASDAQ: MSFT) co-founder, Paul Allen, said he thinks the company should consider spinning off its consumer businesses including search advertising and the Xbox games console division.
Allen, who maintains a $2 billion stake in Microsoft, believes Steve Ballmer's successor should perform "radical surgery" on the company, according to Paul Ghaffari, who manages Allen's $15 billion fortune.
At the Financial Times Investment Management Summit in New York Thursday, Ghaffari pointed out that the majority of Microsoft's earnings came from enterprise, including selling software and services to business customers.
Ghaffari said, "The search business and even Xbox, which has been a very successful product, are detracting from that. We would want them to focus on their best competencies."
In addition to spinning off consumer services, Ghaffari suggested that if the Microsoft board's CEO search results in the selection of Alan Mulally, who is currently serving as chief executive at Ford (NYSE: F) that he (Mulally) should be paired with someone with technology product experience.
The Financial Times reported that Microsoft's most recent quarterly earnings seemed to support Allen's position since they showed that computer shipments to business customers had risen while PC sales to consumers had shown decline.
Related: Apple Takes 94 Percent Share In Education Tablet Market
According to Fox Business, Microsoft chose not to respond to Ghaffari's remarks. This despite the fact that the suggestion the company spin off part of its operations was not a new one.
On Octtober 6, well ahead of Ghaffari's comments in New York, TechCrunch reported that Goldman Sachs (NYSE: GS) said it wanted Microsoft to spin off its Xbox division. To encourage the move it even downgraded Microsoft to Neutral from Buy.
Goldman essentially said the same thing as Allen's representative, maintaining that by straddling both worlds – consumer and enterprise – Microsoft was spreading itself too thin.
From a financial standpoint, the notion of a spin off seemed to make sense. Microsoft's Windows division is worth $107 billion. Enterprise is valued at $99 billion and the company's servers come in at $43 billion. Meanwhile, the entire entertainment and devices division is only worth $3.6 billion.
Goldman said, "A break-up of the consumer businesses could potentially unlock hidden value, or more discipline on cost could turn the businesses into contributors to profitability and shareholder value. To date the company's comments suggest that management still sees significant value in combining the consumer and enterprise efforts, but we view a foot in both camps as preventing a successful focus on one strategy, a la Oracle in the enterprise or Apple for consumers."
At the time of this writing, Jim Probasco had no position in any mentioned securities.
View Comments and Join the Discussion!
Posted-In: Alan Mulally Apple Carl Icahn enterpriseNews Events Tech Media Best of Benzinga