4 Solid Travel Stocks for 2014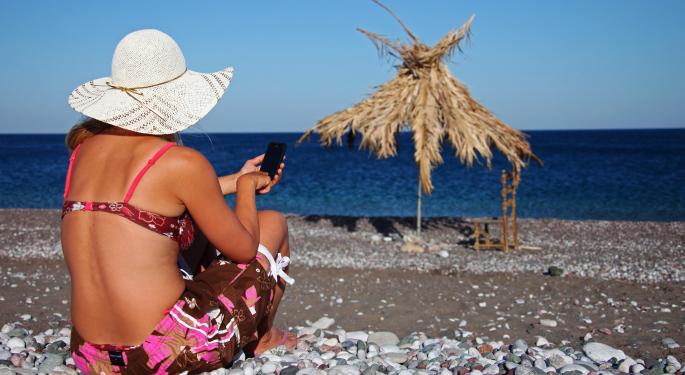 The travel market has grown significantly over the last few years and experts predict there won't be any slowdown in that growth anytime soon. Online travel bookings in particular have seen a strong surge over each of the last three years, with spending in that market climbing as much as 12 percent in recent months.
In 2011 alone online travel grew eight percentto nearly $100 billion year-over-year. The industry has seen something of a recovery in average daily rates, and online gross bookings accounted for roughly 40 percent of the total amount of travel spending in 2013 as well.
These numbers saw growth in 2012 and so far in 2013, and as such many investors are looking to online travel in order to pad their portfolios. But which online travel stocks deserve serious consideration, as we head into 2014? There are quite a few, but analysts expect the following to be among the top performers:
Priceline (NASDAQ: PCLN)
As one of the first online travel companies to hit the market back in the late 1990s, Priceline has made a name for itself. It's also withstood the tests of both time and fluctuating market conditions, to remain at the front of the pack. The company offers a wide variety of travel services -- such as bookings on airline tickets, hotels, cruise packages, car rentals and more and -- for destinations in over 100 countries.
With nearly 70 percent of its gross bookings coming from customers outside the United States, analysts believe Priceline is poised to garner a large chunk of the international market. Research firm ThinkEquity expects its international business to continue to grow in 2014.
Orbitz Worldwide (NYSE: OWW)
Another online travel company that offers services around the world, Orbitz caters to both corporate as well as leisure travelers. The company recently shifted its focus from the domestic travel market and made hotel bookings its primary concentration, which so far has proven a smart move.
Their international gross bookings are up nearly 30 percent year-over-year, thanks in large part to online customers (as opposed to telephone customers, which --believe it or not --still makes up a relatively significant percentage of online bookings across the market).
Travelzoo (NASDAQ: TZOO)
This global internet media company functions as an online middle man between cruise lines, airlines, hotels, and other companies offering travel-related services. Millions of worldwide customers take advantage of those services every year, which forms Travelzoo's primary market. Travelzoo benefited tremendously from acquisition deals made during 2011, and although 2013 has seen a slight downward trend in the company's stock price, it is still expected to be a strong performer in 2014.
Expedia (NASDAQ: EXPE)
Expedia's operating income topped the 50 percent mark recently and one of its most significant holdings, TripAdvisor Media Network, helped its overall media and advertising business hit $1 billion. This accounted for almost 13 percent of the company's global revenue. Although its stock price had a bit of a shaky summer, the numbers have rebounded over the last three months and are expected to continue to grow heading into 2014.
Posted-In: airlinesNews Guidance Travel Markets Tech Trading Ideas General Best of Benzinga
View Comments and Join the Discussion!