Is Sears on Life Support?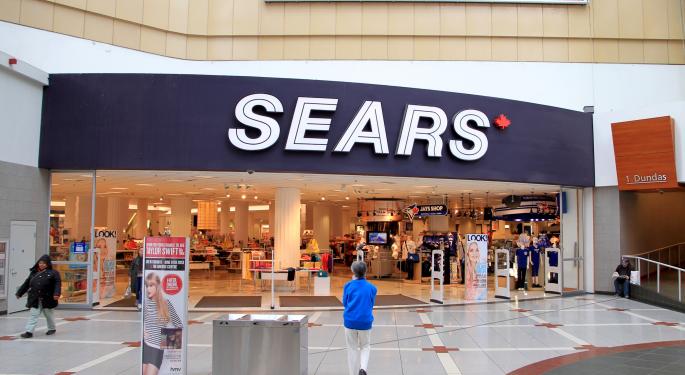 Sears Holdings (NASDAQ: SHLD) said Tuesday it was mulling over spinning off both its Land's End and Sears Auto Center businesses, according to The New York Times.
Brian Sozzi, chief equities strategist at Belus Capital Advisors said this is yet one more sign of impending doom for the brand. As Sozzi told Business Insider, "Every asset sale brings Sears closer to death."
A quick look at headlines and announcements does not exactly paint a rosy picture. First, there's the matter of spinning off Land's End and Sears Auto. Despite the corporation's claim that the move was being contemplated so the company could better focus on Sears and Kmart stores, most observers, including Sozzi see it as a sign the company is desperate to raise cash.
As Sozzi pointed out, "The company is pushing off the inevitable. Because here is the real deal: at some point in our lifetime, Sears will run out of assets to sell to raise cash to fund operations."
In Canada, the story isn't any better. Reuters reported Tuesday that Sears Canada, Inc. plans to close its flagship downtown Toronto store and four other locations by the end of February 2015.
Meanwhile, domestic sales are off almost five percent. This news was reflected in a quarterly update press release Tuesday morning, in which Sears Holdings said same-store sales for the quarter ending Oct. 26 declined by 3.7 percent. This decline included both the 4.8 percent domestic fall off as well as a 2.6 percent drop at the company's Kmart stores.
Further negative signs for the company, were reflected in the fact Sears spent just 0.9 percent of 2012 revenue on capital expenditures. Macy's (NYSE: M), a competitor, spent 3.4 percent according to Sozzi.
Related: Macy's Will Ramp Up Marketing To Counter Slow Sales
Oddly, customer-satisfaction has actually been improving, University of Michigan professor, Claes Fornell told MSN Money. Fornell did have an explanation. The improvement, the professor said, could be because the most irritated customers have already left. Statistically, this pushes average customer satisfaction ratings up.
The biggest blow might be in the form of a debt downgrade by Fitch Ratings last December. Then, in January of this year, CIT Group (NYSE: CIT) stopped acting as financial intermediary between Sears and its suppliers.
The net result could eventually dry up credit for the company, according to Davidowitz & Associates Inc. Chairman, Howard Davidowitz.
Slow sales and credit problems suggest the end is near. A turnaround is always possible, but the signs are not good according to Davidowitz and others.
One possible solution, according to Morningstar analyst, Paul Swinand, would be for Sears Holdings CEO Edward Lampert to take the company private and try to repair things from within his hedge fund. Such a move could be a positive sign for shareholders if Lampert were to buy their stock.
At the time of this writing, Jim Probasco had no position in any mentioned securities.
View Comments and Join the Discussion!
Posted-In: Belus Capital Advisors Brian Sozzi Canada CIT Group Claes FornellNews Events Media Best of Benzinga