Rumor: Google Smartwatch Merely A Few Months Away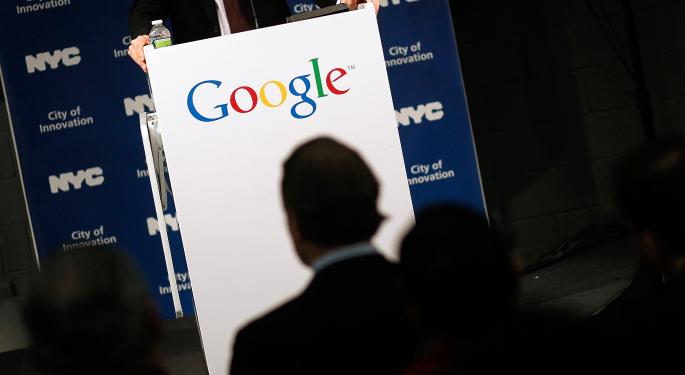 Google's (NASDAQ: GOOG) much-anticipated smartwatch is about to go into mass production, following some last minute tinkering with features and battery life, according to The Wall Street Journal.
The new wearable computing device, which the newspaper said would be available within "months," would be Android-based and integrated with Google's intelligent personal assistant, Google Now.
Linking the new smartwatch to Now is critical to making the device useful. Now integration would enable the watch to answer questions, make suggestions, and help predict what types of information you might need, based on what you are doing now.
This answers one criticism of smartwatches in general, usefulness. After all, a talking wristwatch that tells time and little else is of limited value.
In addition, according to a source who spoke to The Wall Street Journal, Google has been working to reduce power consumption, thereby avoiding one of the chief complaints against Samsung's (OTC: SSNLF) new Galaxy Gear smartwatch.
Related: Lawsuit Against Apple, Google and Others Gains Class Action Status
While price was not discussed, the relatively high cost of existing smartwatch devices – especially given their limited functions – is another major objection that has to be overcome.
If Google does overcome those objections, it could have a real winner. Market-research firm ABI Research said a reasonably priced smartwatch with low power consumption and plenty of applications could help push annual sales to nearly half a million units by 2018.
Clearly committed to wearable computing viz a viz its Google Glass device, Google would love to become the "go to" supplier of smartwatches as well. As a bonus, an Android powered smartwatch would go a long way toward keeping that OS well ahead of both Apple (NASDAQ: AAPL) and Microsoft (NASDAQ: MSFT).
Google signaled its interest in smartwatch technology when it acquired WIMM Labs in August. Whether this has resulted in a product that is able to address the shortcomings of existing smartwatches remains to be seen.
What is clear is that wearable computing is here to stay. Microsoft is reportedly working on its version of Google Glass. Samsung, of course, has already entered the market with Galaxy Gear.
Finally, Apple, that bastion of technological innovation, has long been rumored to be working on an iWatch. Apple CEO Tim Cook recently hinted about "new categories" of products for 2014.
Given the climate, a Google smartwatch, sooner rather than later, could make perfect sense.
At the time of this writing, Jim Probasco had no position in any mentioned securities.
View Comments and Join the Discussion!
Posted-In: ABI Research Android Apple Galaxy GearNews Rumors Events Media Best of Benzinga