China Expected to Become Top Business Travel Market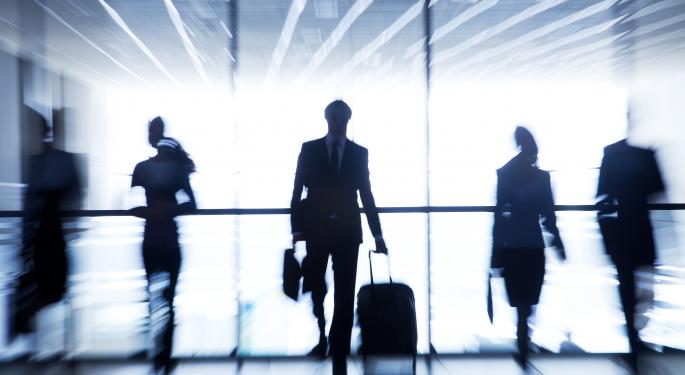 Another sign of China's growing role in international commerce.
According to a report commisssioned by the Global Business Travel Association (GBTA) and sponsored by Visa (NYSE: V), China is expected to surpass the United States as "the world's most dominant business travel market" within the next three years.
The report notes that, despite the global economic downturn, weakened export figures and relatively stagnant data in the business travel sector, China's total business travel spending is projected to rise by 14.3 percent this year to $224 billion. And that figure is expected to expand by 17.2 percent next year, at more than twice the rate of business travel spending in the U.S.
"Diminished trade activity to and from China, particularly in Europe and North America, has undermined the demand for long-haul business travel," Welf J. Ebeling, regional director, GBTA Asia, said in a press statement. "We do, however, see annual growth pushing back towards 20 percent over the next few years."
The report says a dramatic rise in business travel within China has helped fuel this surge; with domestic business travel spending expected to be up 14.3 percent this year and rising another 17.2 percent in 2014.
At the same time, international outbound business travel is forecast to grow by 12.8 percent in 2013, and by 16.5 percent next year. And despite the economic slowdown in some key trading markets, the report notes export growth with nearby economies in Hong Kong and the ASEAN (Association of Southeast Asia Nations) has apparently helped China take up the financial slack.
"As China's economy continues to grow, so does their expected demand for business travel," Tad Fordyce, head of global solutions for Visa Inc., told The Los Angeles Times. "The real question is can they keep up with the demand."
GBTA officials, meanwhile, tell the Times that China is planning to build scores of new airports over the next ten years. And what's more, Beijing Capital International airport is expected in the near fuure to become the world's business airport – moving past the long-time holder of that title, Atlanta's Hartsfield-Jackson.
Posted-In: News Guidance Eurozone Travel Global Markets Press Releases General Best of Benzinga
View Comments and Join the Discussion!