The Loop Could Dethrone Google Wallet, Other Mobile Payment Providers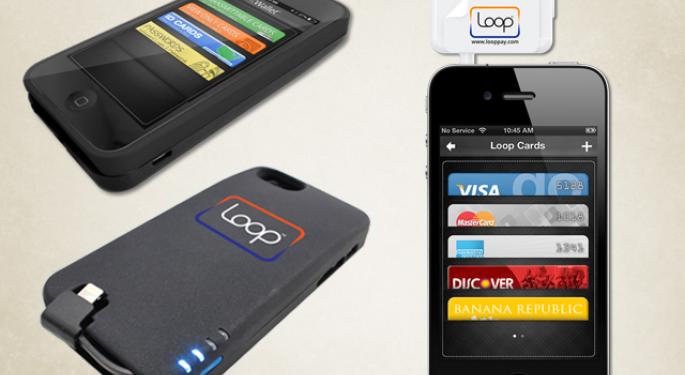 If it's hip to be Square, just wait until consumers get their hands on the first products from Loop, Inc..
"We solved a very tough problem, which was, 'How do you get the phone to talk with the existing point of sale without having to change the point of sales out there?'" Will Graylin, co-founder of Loop, told Benzinga.
Google (NASDAQ: GOOG), PayPal (NASDAQ: EBAY) and numerous others have been trying to solve that problem for years. Thus far, none of those companies have been able to serve more than seven or eight percent of merchants because their technologies require special POS (point of sale) terminals.
Loop, on the other hand, does not require merchants to purchase new equipment.
This is not necessarily a coincidence. George Wallner, who co-founded Loop with Graylin, was one of the pioneers of the modern-day mag stripe POS terminal. Wallner also started Hypercom, which became one of the top three POS firms and was acquired by VeriFone (NYSE: PAY) in 2011.
Related: New Startup GroupFlix Is Netflix A La Carte
Prior to Loop, Graylin launched WAY Systems (the world's first pocket POS solution), which was also acquired by VeriFone.
Graylin also founded ROAM Data, a mobile payments company that supplied all of Square's competitors -- PayAnywhere, Intuit (NASDAQ: INTU), PayPal, etc. -- before being acquired by Ingenico (OTC: INGIF).
Wallner was an investor in both WAY Systems and ROAM Data. Last fall, he and Graylin decided it was time fix mobile payments.
Teaching An Old Terminal New Tricks
Graylin and Wallner didn't want to force retailers to adopt new technology. But without new equipment, they needed to turn the existing mag stripe readers into contactless receivers.
"We started trying, and one afternoon, [Wallner] called and said he had a first contact-less transaction on a mag stripe reader!" Graylin recalled. "I said, 'Fantastic!' That was the key breakthrough we needed."
Related: Is Ford Open To More Startup And Technology Acquisitions?
Loop is building a platform that allows consumers to store all of their cards in a phone. This is not limited to credit and debit cards -- loyalty cards, gift cards, ID cards and membership cards can also be stored and organized in Loop's virtual wallet.
"There is a highly technical aspect, which a lot of consumers probably won't get, which is how we make this happen through an inductive loop to create a magnet resonance and magnetic signal to be transmitted through this inductive loop," Graylin explained.
"Loop is also a great consumer name in that we think it's memorable, and we want to keep consumers in the loop and we want to close the loop between merchants and consumers and also the card issuers and cardholders."
While merchants may not have to purchase new equipment to work with Loop, consumers do have to purchase one of two items: an audio jack card reader (referred to as the Loop Fob) or a smartphone charge case. Both are currently being sold through Loop's Kickstarter campaign.
Graylin and Wallner have each contributed $2 million of their own money to Loop. Outside investors are looking to come aboard "in a big way," but Graylin said that they came to Kickstarter to utilize "the world's biggest focus group."
"Before our product even comes out, we're gonna have thousands of backers," he said. "They are the lead users. They are tech-savvy. They tell us what they want. This is the best kind of focus group that we can imagine."
Graylin said that this will also allow the company to have a relationship with its customers from day one.
Disclosure: At the time of this writing, Louis Bedigian had no position in the equities mentioned in this report.
Louis Bedigian is the Senior Tech Analyst and Features Writer of Benzinga. You can reach him at louis(at)benzingapro(dot)com. Follow him @LouisBedigianBZ
Posted-In: George Wallner Ingenico intuit LoopSuccess Stories Startups Tech Interview Best of Benzinga
View Comments and Join the Discussion!