Benzinga's M&A Chatter for Thursday October 24, 2013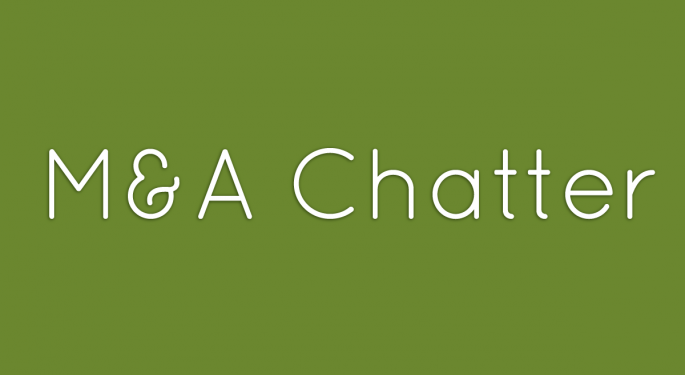 The following are the M&A deals, rumors and chatter circulating on Wall Street for Thursday October 24, 2013:
RR Donnelley to Acquire Consolidated Graphics for $62.00/Share in Cash, Stock Deal
The Deal:
R. R. Donnelley & Sons Company (NYSE: RRD) and Consolidated Graphics (NYSE: CGX) announced Thursday that they agreed that RR Donnelley will acquire Consolidated Graphics for a combination of $34.44 in cash and a fixed exchange ratio of 1.651 RR Donnelley shares for each outstanding share of Consolidated Graphics, for a total of $62 per share, based on RR Donnelley's closing share price on October 23rd.
The deal is expected to close in Q1 2014.
Consolidated Graphics closed Thursday at $63.77, a gain of $0.17.
McKesson to Acquire Majority Stake in Celesio for $8.3B
The Deal:
McKesson Corporation (NYSE: MCK) and Celesio AG announced Thursday that McKesson has agreed to acquire a majority stake in Celesio for €23 per share and to launch parallel voluntary public tender offers for the remaining publicly-traded shares and outstanding convertible bonds of Celesio.
McKesson has agreed to acquire Franz Haniel's stake in Celesio, representing 50.01% of the total outstanding shares of the company. The transaction is valued at approximately $8.3 billion.
McKesson closed Thursday at $150.00, a gain of almost 5%.
Report Former Apple CEO Considering Bid for BlackBerry
The Rumor:
Former Apple (NASDAQ: AAPL) CEO John Sculley is considering a bid for phone maker BlackBerry (NASDAQ: BBRY), according to The Globe and Mail.
Sculley declined comment on the rumor, but told the publication "I've been a long-time BlackBerry fan and user."
Fairfax Financial, let by Prem Watsa has offered $9.00 per share for BlackBerry.
BlackBerry closed Thursday at $8.25, a gain of $0.10.
View Comments and Join the Discussion!