Aereo TV Expanding to Detroit Amid Controversy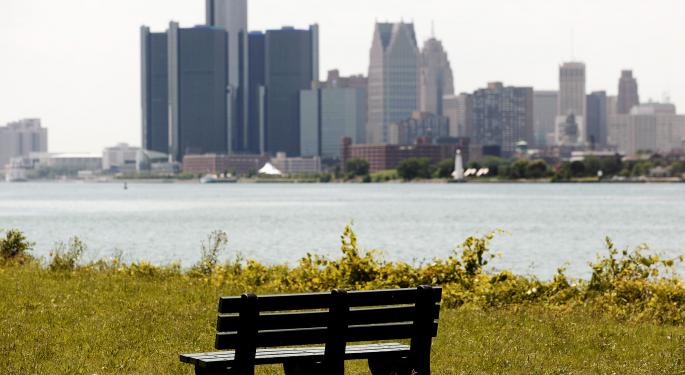 The Aereo TV streaming service on October 28 will be expanding to the Detroit area. This includes nine counties and over 4.2 million homes. Residents who pre-register at Aereo.com will receive priority access to sign up.
"Across the country, the message from consumers is clear: they want more choice and flexibility when it comes to how they watch television," Aereo CEO Chet Kanojia said in a statement. "Aereo's cloud-based antenna/DVR technology brings the old-fashioned antenna into the 21st Century, making television watching simple again."
The announcement comes as Aereo is facing potential lawsuits from the Big Four broadcasting companies - ABC (NYSE: DIS), CBS (NYSE: CBS), NBC (NASDAQ: CMCSA) and FOX (NASDAQ: FOXA). The service streams those networks onto Internet and mobile platforms, allowing users to watch wherever they please. The controversy comes in money, as Aereo does not pay any rights fees to the networks.
The major networks field a petition to the U.S. Supreme Court on October 11, appealing a July decision from a New York circuit court.
Membership begins at $8 per month, for access to Aereo's technology and 20 hours of DVR storage. For an additional $4, consumers can upgrade their membership and receive 60 hours of DVR storage for a total of $12 per month. First month of access is free.
Many networks and affiliates have argued it breaks copyright law to stream without payment, but Aereo has not received any punishment.
The service is similar to Hulu, the online streaming network that require a $7.99 month fee for its premium service, Hulu Plus. A spokesperson for Hulu declined to comment.
"When it comes to consumer choices and saving a buck, companies like Aereo are making a lot of consumers happy," Mekeisha Toby said via email. She said Aereo's inexpensive and high quality way to watch television is "a privilege that used to be free fore cable companies and the digital conversion changed the game."
Toby currently writes for AntennaFree.tv, after having previously been a TV and entertainment critic for The News Tribune in Tacoma (2000-2003), The Detroit News (2003-2012) and most recently at MSN (NASDAQ: MSFT) TV.
Despite the controversy, Aereos' vice president of communications and government relations said they will continue to expand to additional cities throughout the remainder of the year.
The company recently launched coverage in Atlanta, Boston and Dallas. They currently cover 27 markets in the eastern half of the United States. Salt Lake City and Denver are among those with coverage areas west of Kansas City. Aereo is supported on all Apple (NASDAQ: AAPL) devices and on Tuesday launched an Android (NASDAQ: GOOG) app.
Posted-In: Aereo Hulu Hulu Plus Mekeisha MaddenToby MSNNews Media Press Releases Best of Benzinga
View Comments and Join the Discussion!