It's All About the Kids: Companies That Target Youngsters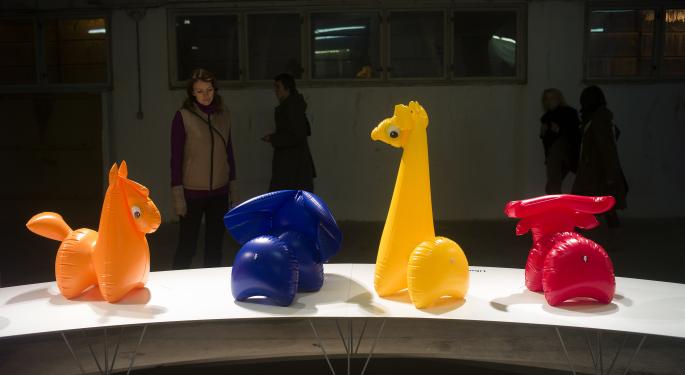 Investing is always challenging, particularly when you are trying to diversify your portfolio.
Most investors probably don't relish thinking of investing as a game, even though that is exactly what it is. But investing in toy and game companies can add some much-needed diversity to your portfolio. It can also help make your personal bottom line something to brag about to the other kids at the playground -- the "other kids" being fellow investors on the "playground" that is Wall Street.
While investing in the game and toy market is nothing new, it is common for investors to push these kinds of companies to the back of the proverbial line until the Christmas holiday season, when they tend to see higher revenues relative to the rest of the year.
But there are a number of companies that are good investment bets year-round, and that can add a little fun and pep to your portfolio. Some of the more sought-after ones:
Build-A-Bear Workshop (NYSE: BBW).  Unlike traditional toy manufacturers that make toys and games and distribute them to retailers, Build-A-Bear has flipped the toy-making concept on its ear. The idea of making a stuffed animal from scratch has taken the toy market by storm, and has carved out a nice little niche market for the company.
The whole idea behind and challenge in marketing to people who don't have any money to spend, i.e. children, is to getting them to convince the people who do have money, i.e. their parents, to spend that money on your product. And creating your own stuffed animal practically from scratch is a concept that has a proven appeal to both children and their parents – and not just around the holidays either.
Hasbro (NASDAQ: HAS). Among the many factors this iconic toy and game manufacturer has going for it, and something that gives it a significant advantage over the competition, is its history. For 90 years Hasbro has been a driving force in the toy manufacturing industry. Recently, however, it's had to rely on a major marketing promotion to boost sales -- such as its partnership with Dreamworks and Paramount Pictures in conjunction with the release of the Transformers films. These kinds of promotions notwithstanding, Hasbro is still near the top of the toy manufacturing game and makes a solid addition to any portfolio.
Mattel (NASDAQ: MAT). Much like Hasbro, Mattel is, for all intents and purposes, a household name and thus a very big player in the toy and game industry. The company has a nearly six percent yield on free cash flow over the last decade, and the company's 2013 third quarter report posted six percent year-over-year quarterly sales growth -- to put it just over the $2 billion mark with a profit increase of 16 percent. Any way you slice it, Mattel is a tested, tried, and true stock pick for 2013.
Posted-In: children children's products Christmas shopping season holiday shopping season retailNews Guidance Markets Best of Benzinga
View Comments and Join the Discussion!