New Startup GroupFlix Is Netflix A La Carte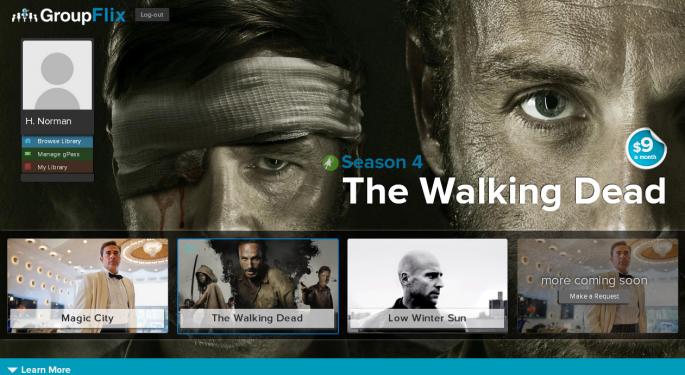 Netflix (NASDAQ: NFLX) provides its subscribers with an all-you-can-eat platform for streaming video.
But what if viewers are only hungry for the latest episode of AMC's (NASDAQ: AMCX) The Walking Dead? Should they pay $8 a month for Netflix, which will not have the latest episodes until after the current season is over?
Some viewers might be okay with that. Cable TV subscribers are particularly content, so long as they own a TiVo (NASDAQ: TIVO) box or make sure that they are home every time a new episode airs.
For everyone else, there aren't many options. Apple (NASDAQ: AAPL) and Amazon (NASDAQ: AMZN) sell the latest episodes the day after they air, but the $2.99 download fees add up quickly.
Beyond that, where can viewers turn? If they don't have cable (or a friend to mooch off), they might be out of luck.
GroupFlix hopes to provide viewers with a superior alternative. Founded by James Norman, the man behind Ubi (a video aggregation site), GroupFlix is an online video service that allows TV lovers to pay for monthly subscriptions for individual shows.
Users start by selecting which shows they are interested in watching. If enough users commit to a subscription, the show will be "unlocked." Users will then the charged a monthly fee -- typically $8 to $10 -- to watch shows like The Walking Dead the day after they air.
GroupFlix is still in beta, so only three shows are currently available: The Walking Dead, Magic City and Low Winter Sun. The first two cost $9 per month, while Low Winter Sun goes for $8.
Related: AMC's 'Low Winter Sun' Captures The "Beauty And Grime" Of Detroit
This may sound an awful lot like a service-based version of iTunes, but Norman told Benzinga that there are some big differences between iTunes and GroupFlix.
"First of all, you have to download iTunes [videos]," Norman explained. "That's the first pain, right? If you're not on high-speed Internet and you want to download it, it kind of sucks. And then you're stuck on the Apple ecosystem. I personally don't have any Apple products, so that's no good for me. I don't want to watch everything through iTunes."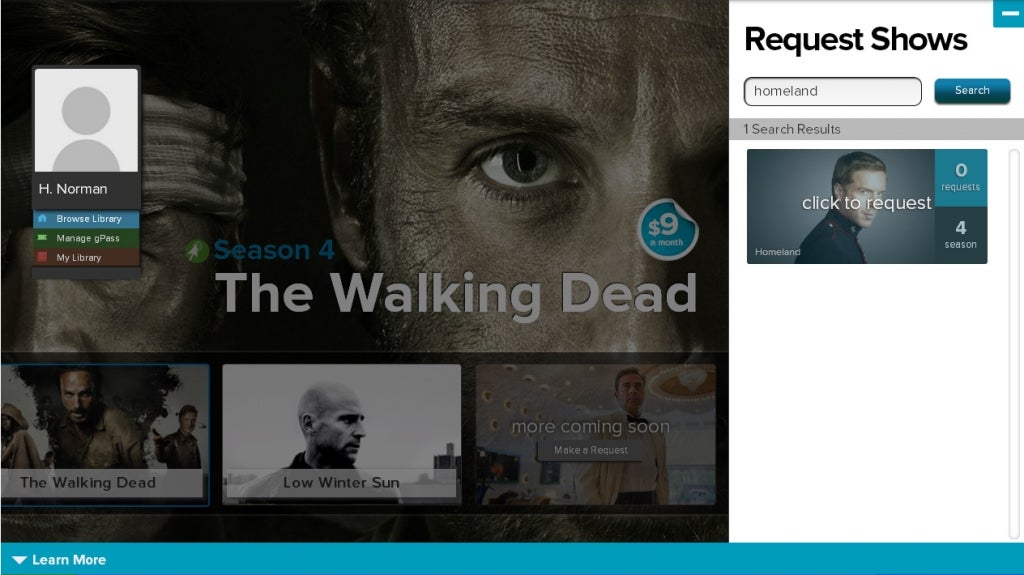 GroupFlix's show request page.
Image Credit: GroupFlix
Secondly, Norman took issue with the idea of buying each episode individually. At $3 apiece, iTunes users could ultimately spend more (four HD episodes per month x $3 = $12) than GroupFlix subscribers.
"Every time an episode is available, I get an e-mail and all I gotta do is click and watch it," said Norman. "I don't have to download it to iTunes, transfer it to my iPad or any of this craziness. It's ultimately a cheaper proposition."
While the shows on GroupFlix are also available on Netflix and Amazon Prime, Norman said that GroupFlix is likely to get shows the other guys don't have.
"Right now, all the shows [Netflix and Amazon] get from Starz, HBO -- premium networks -- they don't actually get those shows until 30 to 90 days after the season is over," he said.
"If we deliver on the kind of content monetization that we are telling these studios -- if people start getting behind the website -- and supporting these shows and paying for their passes, we foresee being able to pull a lot of shows forward into the next day air window."
Related: 'The Killing' Could Have a Deadly Effect on AMC
Unlike other streaming services, GroupFlix allows users to keep the shows they have subscribed to -- forever. The company has not yet worked out how it will provide older episodes that the user may have missed (an additional fee may be required for those who subscribe late in the season), but GroupFlix will make them available.
GroupFlix also plans to integrate with UltraViolet. The company is working on an iPad app and plans to focus on Android next. After that, GroupFlix might come to Chromecast.
Premium Content
Unlike Hulu, which offers free content from basic TV networks, GroupFlix plans to focus on premium channels.
Norman is currently having "really early" discussions with Showtime about the possibility of bringing its shows to the service. He said that Showtime opened his eyes to the global opportunities that GroupFlix could provide, since TV series are not aired at the same time globally.
"We believe GroupFlix could help these networks that want to be brands take control of their brand on a global level," he said.
Even with its premium strategy, Norman said that GroupFlix is likely to gain access to the same early premiere shows that TV networks offer to iTunes, Hulu and other services.
For example, ABC's Trophy Wife debuted on Hulu before it premiered on TV.
"There are no advertisements on GroupFlix," said Norman. "A lot of people are highly [against] advertisements. I personally don't care. I personally respect the fact that advertising pays for the free stuff I'm getting. It's only like three minutes of ads [online] -- TV is much worse.
"[Internet viewing] is really the way you wanted TV in the first place. The ads are more targeted, they're not completely terrible. You're not watching gold exchange ads. That's the difference."
Regardless, there are some people who hate ads so much they would rather pay to watch their favorite shows commercial-free.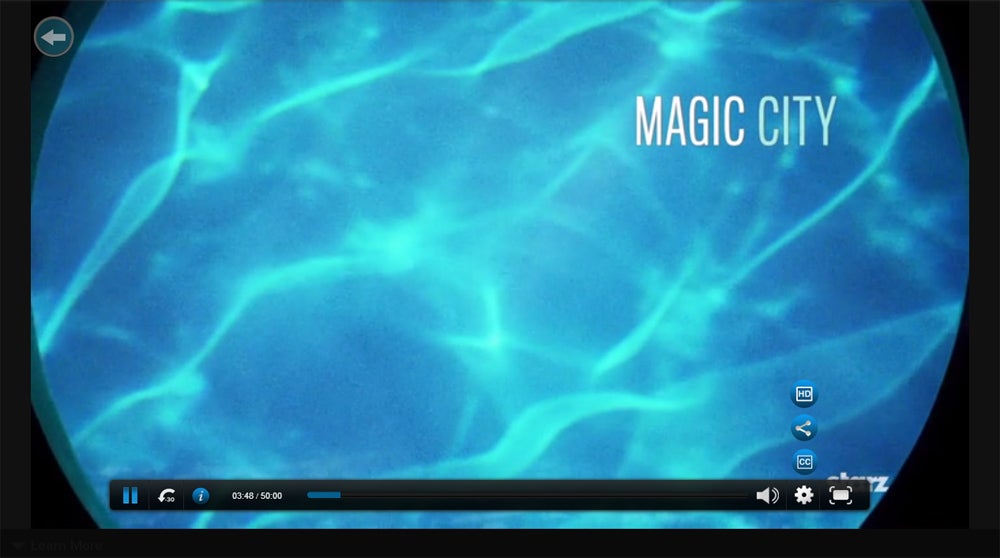 A look at GroupFlix's video player (Web version).
Image Credit: GroupFlix
Investors? What Investors?
For the time being, GroupFlix exists without any outside investors.
"A lot of investors won't touch this market with a stick," said Norman. "They're scared of the content."
Investors worry that if GroupFlix -- or any company in the space -- fails to secure content, the business will be over.
Norman said that he might approach investors once he is able to prove that the platform works.
Detroit Inspiration
GroupFlix was heavily inspired by the cancelation of ABC's Detroit 1-8-7.
By the time viewers began to get into it, the network had taken it off the air.
"It just didn't make sense why this show would get canceled," said Norman. "There's 500,000 people alone who would pay $5 or $6 a month to watch this show. So why is it going off the air? It simply goes off the air because they do their business on the same model they've been doing for years. 'Nielsen said it wasn't tracking well, so we'll just cancel this one and go to the upfronts.'
"That doesn't make any sense. You have a core market where this product works, there's no reason you can't sell it."
According to Nielsen data collected by TV By The Numbers, Detroit 1-8-7 averaged 7.5 million viewers per week. Thus, Norman's estimate of 500,000 viewers (who would be willing to pay to continue watching it) might be conservative.
Could GroupFlix one day provide a solution to networks who don't know what to do with a show that hasn't received the ratings it desires? Viewers will have to wait and see.
In the meantime, Norman and the entire GroupFlix team will continue to work on their mission to change television, one show at a time.
Disclosure: At the time of this writing, Louis Bedigian had no position in the equities mentioned in this report.
Louis Bedigian is the Senior Tech Analyst and Features Writer of Benzinga. You can reach him at louis(at)benzingapro(dot)com. Follow him @LouisBedigianBZ
Posted-In: Detroit 1-8-7 GroupFlix James Norman Low Winter SunNews Startups Tech Interview Best of Benzinga
View Comments and Join the Discussion!