Additional AOL Patch Local News Sites Lose Staff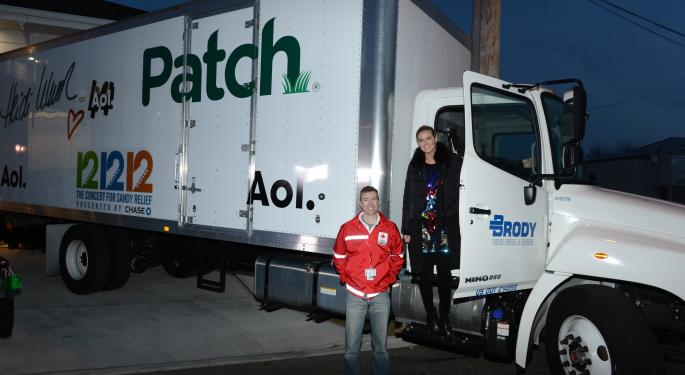 AOL (NYSE: AOL) owned hyper-local news website, Patch, which had 1000 writers working in 900 national locations in December 2012, is now down to 14 designated market areas (DMAs).
New Patch CEO Bud Rosenthal outlined the move in a memo Wednesday morning reported on Poynter.
Rosenthal said the fully staffed outlets would be in those Patch towns "with the highest traffic and revenue." They include Atlanta, Baltimore, Boston, Chicago, Detroit, Hartford, Los Angeles, Minneapolis, New York, Philadelphia, Providence, San Diego, San Francisco and Washington D.C.
Other towns in those DMAs will be "lightly staffed," and all remaining DMAs will remain open, but will not be staffed. In other words, users can contribute comments, post events, and conduct discussions on boards on those sites, but paid reporting will cease.
Patch central staff will post to unstaffed sites daily and the sites will be screened to make sure content is appropriate.
Related: Six Tech Stocks Below Their 50 Day Moving Average
Rosenthal closed the memo by saying, "I know the communities you serve appreciate all that you do for them – and I in particular would like to express thanks for your continued commitment and patience as we work through this period."
The Cleveland Plain Dealer reported on the 17 Patch sites in Northeast Ohio that will lose editorial staffing. The newspaper noted that the sites are shutting down just before a series of local elections, school board races, and other local ballot issues would have almost certainly created more interest and traffic.
The notion of web-based, targeted local news, supported by local advertisers has appeal. It combines the best of two seemingly distant worlds – the Internet and the local hometown newspaper.
No less than the Oracle of Omaha, billionaire Warren Buffet, has made a habit of buying up local newspapers stoked by his belief that local news, "Has content that has more immediate effect on me than what's going on in Washington, London, or Tehran."
So, why is Patch cutting back so drastically?
Huntly Collins, teaches communications and digital journalism at La Salle University in Philadelphia. Collins told the Plain Dealer that Patch may have under-estimated the resources needed for this grand experiment in local news reporting.
Collins said, "It's proof that you can't really cover a local community with one reporter sitting in a coffee shop and working 24/7 from a laptop. Quality journalism -- the kind that people really want to read -- demands many more bodies and much more depth."
It may be that by cutting back to a bare-bones operation, and rebuilding, will prove to be just the medicine Patch needs. Or, the whole thing may collapse. Maybe somebody should ask Warren Buffett what to do.
At the time of this writing, Jim Probasco had no position in any mentioned securities.
View Comments and Join the Discussion!
Posted-In: AOL Atlanta Baltimore Boston Bud RosenthalNews Events Media Best of Benzinga