Fitch Puts 'AAA' Credit Rating on USA on Watch for a Downgrade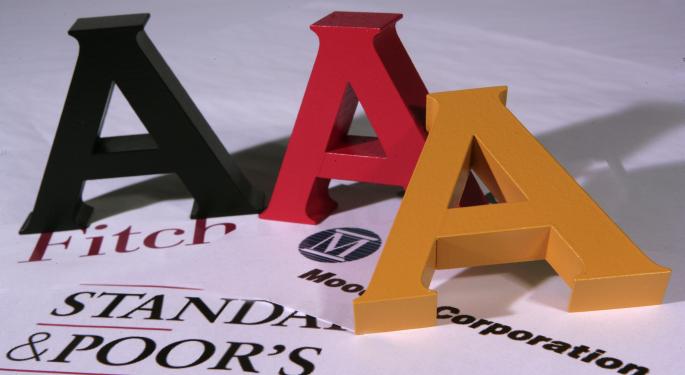 On a press release on Tuesday, Fitch announced that US's government's AAA rating will but put under "rating watch negative" as the discussion on the debt ceiling approaches the default deadline with impasse in Washington.
Fitch is one of the nation's three largest credit rating agencies along with Moody's (NYSE: MCO) and S&P.
S&P downgraded US sovereign debt to AA+ during the 2011 US debt-ceiling crisis while Fitch and Moody's still maintain the US credit rating at AAA.
Fitch's announcement, however, conveys that possible downgrade may come by the end of the first quarter of 2014.
"It seems like what we saw from S&P just before the downgrade, they were essentially warning us that the debt ceiling standoff will not be tolerated and this is not in line with a country that maintains an AAA credit rating. It's citing these artificial default risks as the main reason ... They are essentially saying, 'Get this done now,'" Gennadiy Goldberg, interest rate strategist at TD, commented about Fitch's announcement.
While Fitch believes that US will not default, they state that Washington's failure to raise the debt ceiling in a timely fashion may have damaged the credibility of US government:
"The U.S. authorities have not raised the federal debt ceiling in a timely manner before the Treasury exhausts extraordinary measures. Although Fitch continues to believe that the debt ceiling will be raised soon, the political brinkmanship and reduced financing flexibility could increase the risk of a U.S. default"
Following the news from Fitch, Dow Jones industrial average futures lost 60 points, S&P 500 futures fell 9.6 points, and Nasdaq 100 futures sank 7.5 points.
View Comments and Join the Discussion!
Posted-In: Fitch Fitch Ratings Moody'sNews Politics Economics General Best of Benzinga