Autumn Winds Sweep In Lower Gas Prices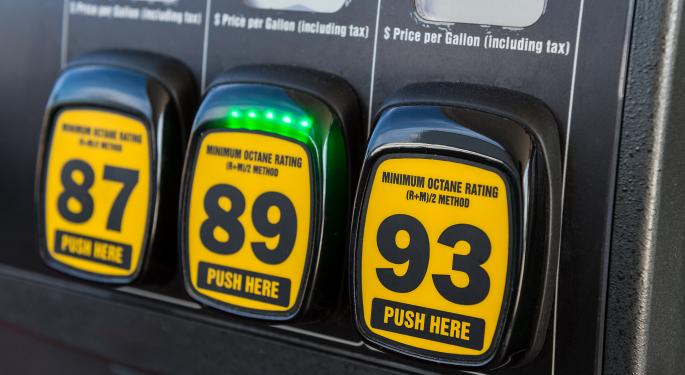 An economic milestone was reached last month. For 1,000 consecutive days (and counting), the average national gas price has been $3.00 or higher.
It is a sobering statistic for drivers, but there is some light at the end of the tunnel.
The average price has seen a drop during the start of the fall season. According to GasBuddy.com, from September 3 to October 6, a streak of 34 days, the average priced slowly dipped. This was the longest chain of downward prices since 2008. As of Tuesday, the current average sits at $3.36 per gallon, down 46 cents from a year ago.
Gas Buddy Chief Analyst Tom Kloza attributes the drop to a number of factors, including the change of season.
"In the spring and summer, U.S. refineries can't add some cheaper components to the gas mixture," Kloza said via email. The demand in the latter summer months of about 390 million gallons per day drops significantly to about $20 million gallons after Labor Day. "Those components raise vapor pressure and higher temperature months prohibit the use of such mixtures."
The autumn and winter months allow for cheaper components, such as butane and naphtha, to be added to the gas mixture. A $2 per gallon drop in ethanol prices has also lowered wholesale concern.
High refinery runs are also a significant factor. The U.S. Gulf Coast has doubled its refining capacity to 600,000 barrels per day of crude where Kloza said the addition of capacity, also known as "capacity creep," at existing plants has been very active this century.
Less than one percent of the country find prices over $4 per gallon, compared to 16 percent of reporting stations last year. California and many western states remain high, ranging from $3.61 to $4.73 per gallon. Not all is lost for the Golden State.
The biggest drop over the last year (October 1-9) has occurred along California and throughout the Midwest. Nearly the entire state, along with most of Oregon, has seen a drop of at least 45 cents. This is also the case for Michigan, Minneapolis, Wisconsin and Missouri.
Patrick DeHaan, Senior Petroleum Analyst with Gas Buddy, attributes this to a refinery issue in 2012.
"Californian refineries were bogged with issues that led to tight supply," he said. The same applies, to a lesser degree, for Michigan and its surrounding areas. Halted localized pipelines may also have led to the higher prices in the Great Lakes.
Kloza said more meaningful drops would require a lower valuation for crude oil.
"If crude oil benchmarks like WTI (or even Brent) remain above $100 bbl (per barrel) and $108 bbl, we are probably 5-12 cts gal within the bottom of this down cycle for gasoline. But it is very conceivable that crude prices will lose $5 to $10 bbl in value in the next few months."
This could bring the nationwide retail price to $3 per gallon, with many states potentially falling below that infamous mark.
Posted-In: Gas Buddy Tom KlozaNews Economics General Best of Benzinga
View Comments and Join the Discussion!