Nokia to Offer Free Year of Netflix with Smartphone Purchase in the UK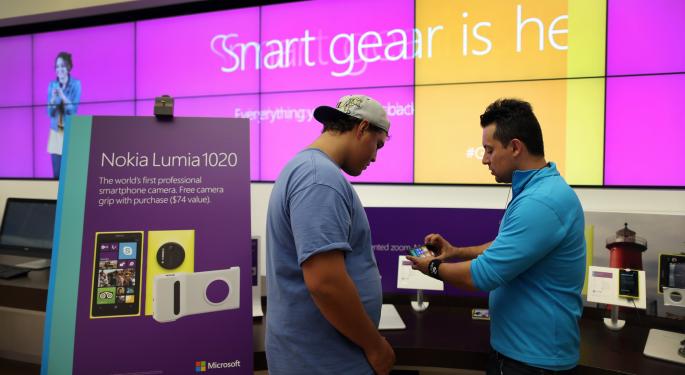 Nokia (NYSE: NOK) has put together one whopper of a holiday season deal designed to move as many of its new Lumia 1020 Windows phones as possible.
It's offering a full year of Netflix free through some vendors in the UK according to the Financial Times.
Nokia, which is in the process of selling its handset business to Microsoft (NASDAQ: MSFT), apparently wants to go out with a bang. The Lumia 1020 will be one of the last devices made by the company.
In a deal thought to be funded mostly by Nokia, Vodafone customers in the UK will get an annual Netflix subscription. Phones4U has a six-month Netflix subscription offer going on several Nokia Windows smartphones as well.
All of these promotions are designed to push sales moving into the critical holiday period and will include a huge advertising campaign co-sponsored by Microsoft, UK carriers, and retailers.
Related: Microsoft Buying Nokia for $7.2 Billion, Here's Why
As CNET pointed out, offering free Netflix subscriptions with devices is not new. Recently buyers of Google's (NASDAQ: GOOG) Chromecast dongle received a free three-month membership with their purchase. The offer was wildly successful with Google running out of the Netflix subscriptions in about a day.
Whether the Nokia offer will generate those kinds of sales remains to be seen. The Chromecast device costs around $35. A Nokia Lumia 1020 in the UK sells for more than $900. A full year of Netflix for free, while impressive, isn't exactly a slam-dunk when the cost of the device is that high.
Nokia and Windows have a lot of ground to make up when it comes to Apple'a (NASDAQ: AAPL) iOS or Google's Android operating system. Globally Windows currently has only about four percent market share according to IDC. In the UK, Windows phones own more than 10 percent of the smartphone market according to Kantar.
By the end of this past August, the best-selling smartphone in the UK was the Apple iPhone 5, followed by the Samsung Galaxy S4, according to the Verge. The Apple 5S, which recently launched in Great Britain was reportedly also selling strongly in the first few weeks.
Nokia, which has seen smartphone sales plummet in recent years, announced in September that it was selling its handset business to Microsoft for $7.2 billion. The deal has not yet been approved by Microsoft shareholders.
Meanwhile, with the help of free Netflix, Nokia plans to sell as many smartphones as possible.
At the time of this writing, Jim Probasco had no position in any mentioned securities.
Posted-In: Android Apple Apple 5 Apple 5SNews Global Tech Media Best of Benzinga
View Comments and Join the Discussion!