Low-Cost iMac and a Scary Chart Top Apple's Weekend News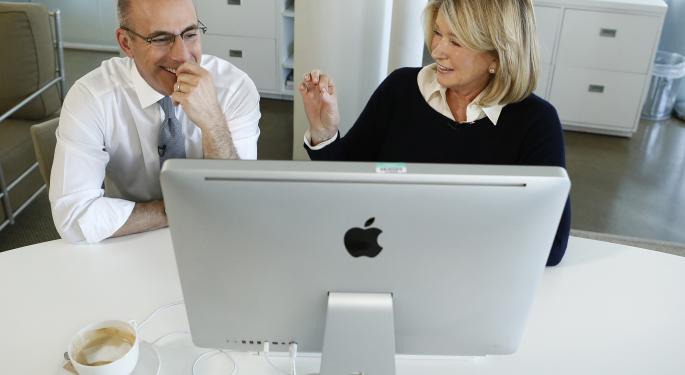 It's Monday and although the Washington lawmakers couldn't come to an agreement on the shutdown or debt ceiling, at least there was some interesting news surrounding Apple (NASDAQ: AAPL).
Here's what you may have missed after markets closed Friday.
Apple to Launch a Lower-cost iMac?
Analyst Ming-Chi Kuo of KGI Securities published a research note that said Apple may be preparing a lower-cost iMac to combat slumping PC sales worldwide. Kuo is a friend of the Apple rumor mill because of the accuracy of his information so this isn't something to immediately dismiss.
According to him, it should ship in Q2 or Q3 of 2014 and likely boost mac sales by 10 to 20 percent. Of course, lower-cost to Apple and lower-cost to consumers aren't often the same thing. Apple has made it clear that it doesn't want to be in the bargain space.
Kuo also laid out plans for a 12-inch MacBook that will "redefine laptop computing" that will be thinner and lighter than the MacBook Air and will run on an Intel (NASDAQ: INTC) chip instead of an Apple A8 processor.
Finally, he said that the sixth-generation iPad will have 30 to 40 percent more pixels-per-inch than the current retina display. The fifth generation iPad is set to come to market this month.
Technical Analysis- Apple is Getting Squeezed
If you're a technical trader, you might notice that the ascending triangle pattern in Apple's chart is getting tighter. An ascending triangle forms when a stock forms a strong level of resistance at the top while simultaneously forming higher lows. In Apple's case the upper resistance level is around $490 and as the 50 day moving average continues to rise, higher lows continue to form. The stock is now trading in a $7 range.
Related: MORE Evidence That The iPhone 5C Is A Disappointment
Traders hope that the stock will break out of the triangle to the upside. If it does, expect a powerful move-first testing $507, then $513. If the stock can't hold its 50 day moving average, there's plenty of downside including $474 and $460.
If you're a trader, this is definitely a time to keep a close eye on the chart.
The Apple Spaceship Office hasn't Died
We haven't heard much about Apple's new spaceship campus idea—the circular-shaped campus to be built on a 175-acre site in Cupertino, California but that doesn't mean it's not still in the works. Apple CFO Peter Oppenheimer presented new models of the campus to the city council as it prepares to vote this week. According to Oppenheimer, the circular design is supposed to encourage collaboration between employees.
Disclosure: At the time of this writing, Tim Parker was long Apple.
Posted-In: Apple Cupertino iMac Intel KGI SecuritiesTechnicals Tech Trading Ideas Best of Benzinga
View Comments and Join the Discussion!