AMC's 'The Walking Dead' Setting a New Horror Standard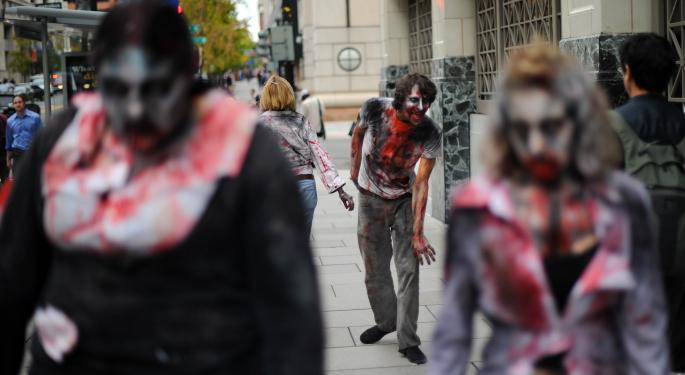 Historically, Halloween was a time when regular network television series gave a passing nod to the popular holiday with perennial "Trick or Treat" episodes.
Cable channels dusted off their stash of old horror flicks and viewers enjoyed such offerings as Comcast (NASDAQ: CMCSA) owned, Syfy Channel's 31 Days of Halloween, Disney's (NYSE: DIS) Monstober, and the ABC Family channel's 13 Nights of Halloween.
Then came "The Walking Dead." On October 31, 2010, AMC (NASDAQ: AMCX) premiered its soon to be epic series about a post-apocalyptic battle between the living and the undead.
It wasn't a one-night, one-week, or even one-month deal. "The Walking Dead" was designed to last an entire season. It did. Three of them, in fact, and is about to start season four.
The Walking Dead was so strong it bested all other networks in 2012-13 as the most viewed series among all those broadcast by ABC, CBS (NYSE: CBS), NBC, or Fox (NASDAQ: FOXA). This considering the fact only people with cable or satellite can even watch the show!
Small wonder then that the rest of the television world stood up and took notice of the "zombies" among us. When "The Walking Dead" starts its fourth season at 9 pm EST Sunday, it will find company on the small screen according to Knoxville.com.
First, there's The CW's new Vampire Diaries spinoff, The Originals, which airs Tuesdays at 8 p.m. The CW also has "Supernatural" which runs the same night at nine.
On October 25, NBC will begin season three of Grimm, and has also produced a new version of Dracula, with a Victorian setting, set to premiere the same night at 10. ABC Family's Ravenswood, a spinoff from Pretty Little Liars, premieres October 22. Fox premiered Sleepy Hollow earlier this year and the series has already been picked up for a second season.
As has been the case for the past three years, The Walking Dead season premiere kicks off AMC's Fearfest, a two-week festival of fright leading up to Halloween. And if history is any indication, more 35-to-40-year-olds will tune in to "Fearfest" than you can shake a blood-drenched skeleton at.
The glut of season-long horror shows pretty much chainsaws the conventional wisdom that "genre" series would not be supported by viewers. Given the immense popularity of these horror-themed shows, plus the inclination of networks to photocopy successful ideas "ad nauseum," viewers can likely expect more of the same for seasons to come.
At the time of this writing, Jim Probasco had no position in any mentioned securities.
View Comments and Join the Discussion!
Posted-In: 13 Nights of Halloween 31 Days of Halloween ABC ABC Family AMCNews Events Media Best of Benzinga