Stephanie McMahon Sells Over 800K Shares, WWE Ratings Continue To Struggle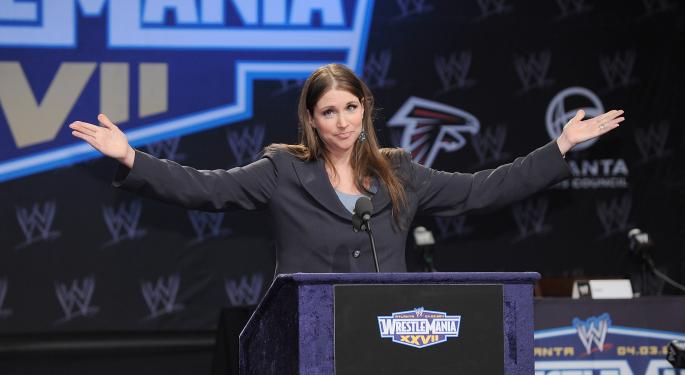 The mecca of 'sports-entertainment' has been losing viewers recently. That has not stopped its first daughter from cashing in big time.
According to the New York Post, Stephanie McMahon sold 833,000 shares of her WWE (NYSE: WWE) stock, which equates to about $8.3 million.
The Post reported that the sell off was done to help finance a home for McMahon, who has been married to part-time wrestler and Executive Vice President of Talent and Live Events Paul Levesque, better known to audiences as Triple H. The couple have been together on and off-screen for 13 years and married in 2003. They own residences in Connecticut, the home state of WWE, and Manhattan, the pseudo-home state of the company.
The sale was official on October 7, the same day WWE's flagship show - Monday Night Raw - received its lowest television ratings off the year. The three-hour show scored a 2.65 Nielsen (NYSE: NLSN) rating, which translates to about about 3.7 million viewers.
McMahon and her father, Vince, have seen their on-screen roles increase throughout the year, but the show's ratings have steadily declined. The presence of ESPN's (NYSE: DIS) Monday Night Football does not help its cause during the fall and winter months.
Total Divas recently debuted on E! (NASDAQ: CMCSA) cable network, another sign of the company's ever-growing entertainment side. A television network has been in the works for some time now, but among other setbacks, WWE has not finalized its rights fee or secure a cable provider.
This is not the first time this year McMahon has been selling off. Earlier in the summer, she sold over 277,000 shares for around $2.6 million. A little over a month ago, she sold nearly 20,000 shares, which brought in over $200,000 in earnings.
McMahon worked as a costume designer and model in her early years with the family business. In 1999, she took on a villainous on-screen role during the company's peak viewership years.
After starting a family ten years ago, she settled down in the backstage area, becoming a head writer and her now current role as Executive Vice President of Creative.
View Comments and Join the Discussion!
Posted-In: E! ESPN Monday Night Raw New York Post Nielsen Media Research Stephanie McMahonNews General Best of Benzinga