Disney Just Generated Electricity by Rubbing Paper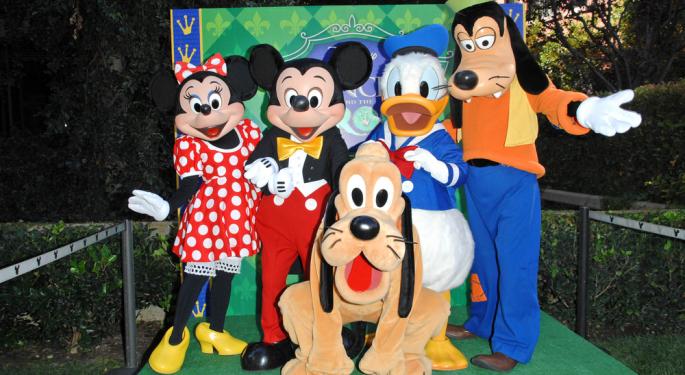 It's a concept so simple it seems like child's play.
Using materials called 'electrets,' Disney (NYSE: DIS) Research has created a new technology that lets you generate electricity (energy) by tapping or rubbing paper.
The initial beneficiaries of Disney's paper generators will probably be children interacting with books that, according to Co.Design, light up, play sounds and otherwise entertain and engage them in ways traditional books never could.
The electrets hold a semi-permanent electrical charge. In the Disney demonstration, the electret is a sheet of Teflon which, when rubbed against a regular sheet of paper with conductive ink on it, generates electricity.
In a Disney research paper that describes the project, Mustafa Emre Karagozler, Ivan Poupyrev, Gary K. Fedder and Yuri Suzuki pointed out that the electrical charge can be generated by rubbing, tapping, even touching. Once you have electricity, of course, the possibilities are endless.
So, what's the big deal? Interactive books and greeting cards, including cards that play music already exist. The difference: Existing interactive paper technology relies on batteries. And, according to Co.Design, battery technology is stagnant. Not to mention, costly.
Related: IBM Wants to 'Watsonize' the World
Disney's new development, said researcher, Ivan Poupyrev, is made even more incredible by its simplicity adding, "This simplicity leads to countless applications enabling interactivity everywhere and anytime. My overall goal is to make the whole world interactive, and creating ubiquitous power supplies is a key step in that direction."
Although the energy created is low in amperage, it's high in voltage (up to 1000 volts), allowing for such actions as mechanical movement, lighting several LEDs at the same time, and producing sound.
Poupyrev said, "A small battery source would be depleted almost immediately in most of the applications that we designed for our power generators, and that would make them unfeasible from the product point of view.
Perhaps most importantly, from a production point of view, the cost of creating paper generators is almost nothing. They can be printed with traditional printers using conductive ink, thereby adding interactivity to an almost endless array of products.
It's even possible to store the energy created until there is enough to send an infrared signal to, for example, a computer.
Disney's Karagozler summed it up. "It's very simple, it's flexible and it's printable using conventional printers. It's a technology with potential applications we've only begun to explore."
Where could it all lead? Disney only talked about interactive paper books. Gigaom, however, hinted at much more, pointing out, for example that the e-paper display on Amazon's (NASDAQ: AMZN) Kindle uses such a small amount of power that in the future it might be possible to power such a device by simply brushing your hand across the surface.
At the time of this writing, Jim Probasco had no position in any mentioned securities.
Posted-In: Amazon Batteries disney Disney Research e-paper display electretsTech Media Best of Benzinga
View Comments and Join the Discussion!