Samsung Galaxy Gear Ads Pay Tribute Back To Fictional Future (SSNLF)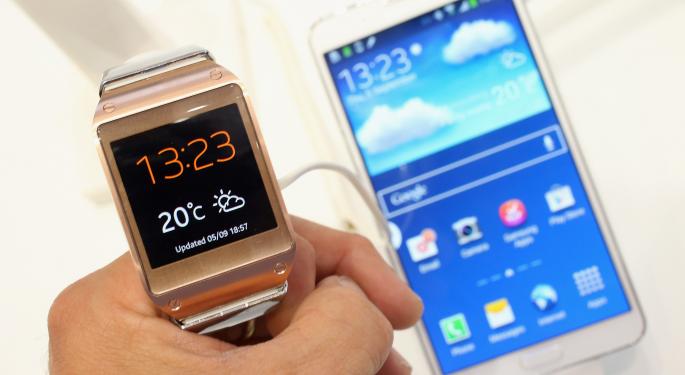 For fans of The Jetsons and Captain Kirk who dreamed of one day communicating by their wrists, Samsung feels your love.
A couple of new advertisements for Samsung's (OTC: SSNLF) Galaxy Note 3 and Galaxy Gear made their way around television and the Internet over the weekend. The jury is still out on the actual product, but the ads have certainly been getting people talking.
One 60-second promo beings with the voice-over of Dick Tracey making a call to Hemlock Holmes. As the spots go on, cultural icons from Thunderbirds and Star Trek to Inspector Gadget and Mighty Morphin' Power Rangers are referenced. Even the clicks and cackles of the Predator monster can be heard.
While one spot uses actual clips of characters using their devices, another spot is simplified with how these objects might actually look. A three-dimensional rendering of George Jetson's watch makes the object appear tangible, before leading to the 1.63 inch Galaxy Gear product in the second half of the advertisement.
An up-close look into Johnny Socko's band shows us the different colors and intricate wiring that such technology one day required (or what we thought required). Much like flying robots, these miniature transmitter's of communication seemed like fantasy.
No longer, Samsung says, as "the next big thing" has finally arrived after all these years. The ads may bring people back to Apple's (NASDAQ: AAPL) first iPhone teaser, which saw many of television and films famous faces answering a telephone.
In sentiment, however, the Gear ads might be more reminiscent of Apple's late 1990s "Think different" campaign, right up to the simple black background and white text. Nostalgia will always carry weight, even with the more kitsch subjects like Knight Rider.
Despite some less than favorable reviews of the Galaxy Gear so far, Samsung has received very positive feedback on Twitter and the company's official YouTube video posts about the way they are marketing it. Back in the future.
Posted-In: Apple Galaxy Gear iPhone SamsungNews Tech Reviews General Best of Benzinga
View Comments and Join the Discussion!