Tesla CEO Fights Fire with Statistics (TSLA)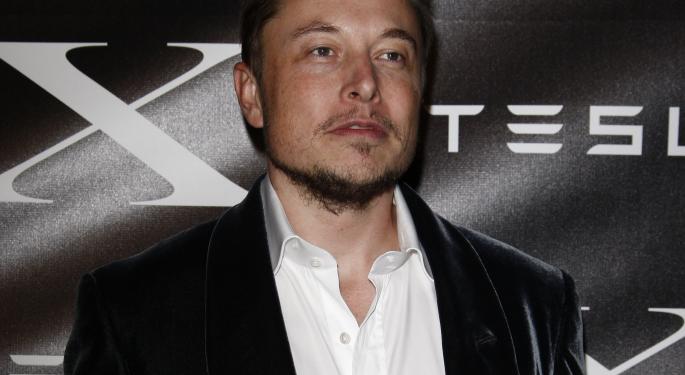 According to Tesla Motors (NASDAQ: TSLA) CEO Elon Musk, a fire in one of his company's battery- powered vehicles is nothing compared to a fire in a gasoline-powered car.
In a blog post Friday Musk said, "The combustion energy of our battery pack is only about 10 percent of the energy contained in a gasoline tank and is divided into 16 modules with firewalls in between. As a consequence, the effective combustion potential is only about 1 percent that of the fuel in a comparable gasoline sedan."
In the widely reported incident, the Tesla battery compartment, which is protected by quarter-inch armor plating, was struck by a "large metal object" while the car traveled at highway speeds. The force of the impact was "on the order of 25 tons" according to Musk.
Musk pointed out that the car's onboard alert system advised the driver to pull off the road and get out of the car. In addition, Musk noted that firewalls contained the fire and vents directed the flames down and away from the vehicle.
"Had a conventional gasoline car encountered the same object on the highway, the result could have been far worse," Musk said.
Related: Tesla Model S Catches Fire - Causes Stock To Dip
Using statistics from the National Fire Protection Association, which suggest one vehicle fire for every 20 million miles driven in a conventional car versus one in more than 100 million miles in a Tesla, Musk concluded that drivers are five times more likely to experience a fire in a conventional gasoline car than a Tesla.
Musk blamed firefighters for puncturing one of the firewalls in the battery compartment, allowing flames to enter into the front trunk of the Tesla. According to a Fox News report, firefighters became frustrated when their initial attempts to extinguish the fire resulted in the flames reigniting. At that point, they dismantled the front of the car and punctured holes in the battery pack, including the firewall.
Since electric cars make up less than one percent of automobiles sold in the U.S., lack of familiarity with the nature of fires in battery-powered vehicles might continue to be an issue until those numbers grow.
Contrary to earlier reports that water intensified the fire, Musk said the use of water was correct, especially in combination with dry chemicals, as finally happened.
To emphasize his belief that Tesla is not a major fire risk, Musk closed his blog post by saying, "For consumers concerned about fire risk, there should be absolutely zero doubt that it is safer to power a car with a battery than a large tank of highly flammable liquid."
After sliding more than 10 percent, following news of the fire, Tesla shares regained more than four percent Friday, closing at $181.
At the time of this writing, Jim Probasco had no position in any mentioned securities.
Posted-In: Elon Musk firefighters firewalls National Fire Protection Association TeslaNews Events Media Best of Benzinga
View Comments and Join the Discussion!