Benzinga's M&A Chatter for Thursday October 3, 2013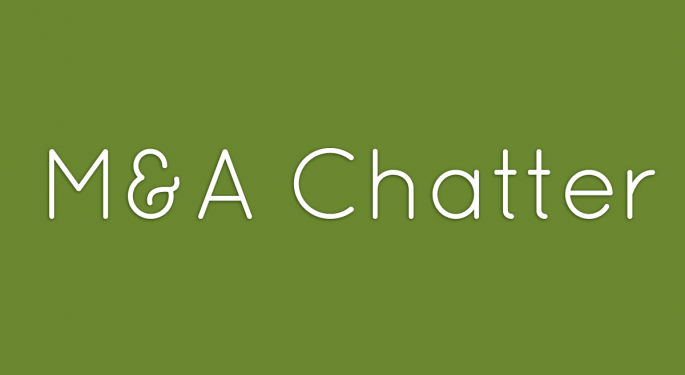 The following are the M&A deals, rumors and chatter circulating on Wall Street for Thursday October 3, 2013:
Hearing Chatter Priceline in Talks to Acquire HomeAway
The Rumor:
Shares of HomeAway (NASDAQ: AWAY) moved sharply higher Thursday on unconfirmed market chatter of takeover interest from Priceline (NASDAQ: PCLN). The potential takeover price was rumored to be around $45 per share. HomeAway currently has partnered with Priceline to provide car rental and flight booking services for HomeAway users.
Spokespersons for Priceline and HomeAway declined comment on the rumor.
HomeAway closed at $29.65 Thursday, a gain of almost 8% on 5 times average volume.
ICG Group Announces Procurian to be Acquired by Accenture for $375M
The Deal:
ICG Group (NASDAQ: ICGE) announced Thursday an agreement to sell Procurian to Accenture (NYSE: ACN) for $375 million in cash. The deal is expected to close in Q4.
ICG Group closed at $15.30 Thursday, a gain of 9%.
Lexmark Acquires PACSGEAR for $54M in Cash
The Deal:
Lexmark International (NYSE: LXK) announced Thursday the acquisition of health care software company PACSGEAR for approximately $54 million
Lexmark closed at $34.11 Thursday, a gain of $0.09.
View Comments and Join the Discussion!